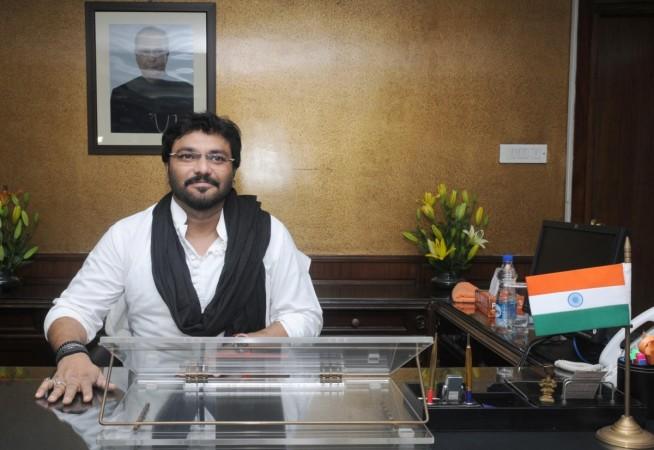 Union Minister Babul Supriyo's convoy in Asansol, West Bengal, was attacked by a mob on Wednesday. The singer blamed Trinamool Congress party workers for the attack.
His car was reportedly stopped by TMC supporters, who also pelted stones at people in the convoy. He was also hit by a stone and suffered minor injuries. Supriyo had reportedly gone there to join a BJP demonstration against Malay Ghatak, under whose patronage illegal slaughter houses were reportedly operating. TMC workers were reportedly present their beforehand to stop the BJP supporters from conducting the protest outside Ghatak's house.
A skirmish ensued after the TMC workers tried to stop the BJP supporters. Supriyo was hit when he had stepped outside his car to talk to an agitator.
The police seemed unable to stop the confrontation between the two parties and a BJP supporter had been severely injured. The mob also vandalised his vehicle and assaulted other Bharatiya Janata Party members, including Subrat Mishra, with Supriyo.
Tension prevailed in Asansol after the attack.
"They attacked me with brickbats and vandalised my car. This mob comprised of goons from the Trinamool Congress. They were Trinamool Congress leader, Malay Ghatak's men. Instead of arresting the people who attacked us, police has arrested BJP supporters," said Supriyo.
Trinamool Congress district president V Shivadasan dismissed Supriyo's claims that the TMC was involved in the attack.
Clashes broke out in the area between BJP and TMC workers after Supriyo was attacked in his own constituency. Trinamool Mayor of the Asansol Municipal Corporation Jitendra Tiwari reportedly said that the rebel BJP workers hit Supriyo.
Someone caught this moment on camera!!!!! That big a stone thrown from a distance-COWARDs! I don't back off in front of goons of MalayGhatak https://t.co/in51A14kEP

— Babul Supriyo (@SuPriyoBabul) October 19, 2016
TMC MIN Malay Ghatak's goons inflicted this injury on my 'chest'' with a solid brick thrown 'FROM A DISTANCE"-Cowards pic.twitter.com/xMyAb9z1mr

— Babul Supriyo (@SuPriyoBabul) October 19, 2016