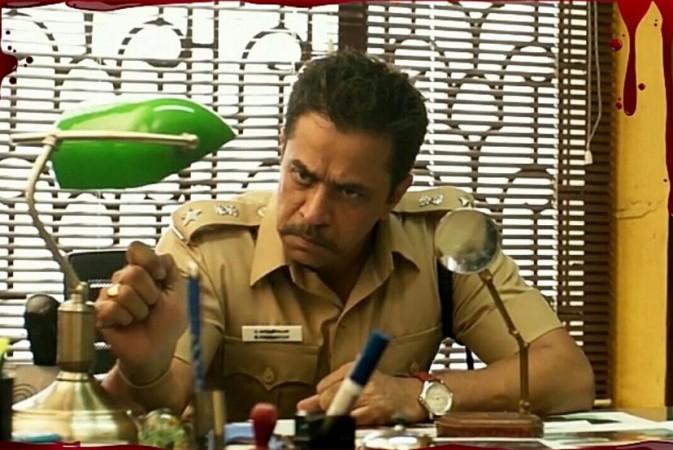 Andrew Louis of Leelai fame is teaming up with his classmate-friend Vijay Antony for crime thriller Kolaigaran, which also has Arjun Sarja playing the lead role. Ashima Narwal is making her debut in Tamil by playing the love interest of the hero in this bilingual flick.
Nassar, Sathyan, Guru Somasundaram, Mayilsamy and many others are part of the supporting cast. The film has Simon K King's music, Mukesh's cinematography and Richard Kevin's editing.
Story:
Kolaigaran is a thriller in which Prabhakaran (Vijay Antony) plays the prime suspect in a murder case. Karthikeyan (Arjun Sarja) enacts the role of an investigating officer. Ashima Narwal plays the character of a middle-class woman named Dharani, who looks after her family.
The film begins with a murder of a woman. Prabhakaran (Vijay Antony) comes forward to confess the crime and a flashback takes the viewers back to a murder of a man that occurred 44 days ago.
Cop Karthikeyan discovers a connection to the man's murder with Dharani and her mother.
The police officer has every reason to believe the mother and daughter to be behind the murder of a man, but what surprises is their neighbour Prabhakaran confessing to the crime. How the unravels the mystery forms the crux of the story.
Analysis:
The film is based on Japanese novel, The Devotion of Suspect X. Remember Malayalam blockbuster Drishyam took inspiration from the novel. The latest movie stands out as a different product from the Mohanlal's film because the killer is unknown here, while everything was revealed in the earlier flick.
It is a tailor-made role for Vijay Antony as he pulls of the role with ease. His emotions and reactions are perfect for the character. Arjun shines in the role of a cop and Ashima Narwal is also impressive.
Average Ratings Given by Audience: 3.5
Going by the viewers' response, it is an edge-of-the seat thriller. The second half has been universally praised by the cine-goers. Check out the audience's response to the film below:
Kannank: #Kolaigaran A different Screenplay good Attempt ( #Dirshyam & #papaanasam shadows) 2 songs dissatisfied Editing & Bgm worthable thriller watch in theatre's congrats @andrewxvasanth @Dhananjayang
Kaushik LM: #Kolaigaran - Chk it out in theaters. It'll be a good big screen experience.. If you are a fan of whodunit crime mystery thrillers, with twists, turns & an emotional topping - this one will work very well for you.. 3.25/5..
#Kolaigaran - The 2 love songs (both are good, music wise & visually) are the only times when the film loosens its grip and hold. Commercial compromises maybe! Otherwise @andrewxvasanth stays true to the core plot, and utilizes @akarjunofficial @vijayantony @iamashimanarwal well.
#Kolaigaran - Towering BGM by @simonkking ;the catchy hook theme will stay in mind as it's used often. Technically a slick product overall, from @andrewxvasanth & crew. Very crisp runtime
Pretty debutante @iamashimanarwal acquits herself well. Good importance for her in the plot
#Kolaigaran - 3.25/5. Good The 2nd half uncovers the crime mysteries & layers in the film. It'll be a nice guessing game for the audience.
Grt comeback for @vijayantony - another solid thriller for him after Naan. Dir @andrewxvasanth delivers a fine product.
@akarjunofficial
#Kolaigaran 1st half - Going fine so far, in the crime thriller space. @akarjunofficial is impressive as usual, as the cop who heads the investigation. @vijayantony is back to his brooding, silent self and it works well for him.
2 needless love songs serve as phone/loo breaks!
Christopher Kanagaraj: #Kolaigaran - A Different version of 'Drishyam'/'Paapanasam'. Technically its very strong with intense theme music, camera work & editing. Arjun is d showstealer. Only neg is those 2 duets in 1st hlf, it literally kills d flow. Less than 2 hrs runtime. Engaging Thriller. Worth!
S Abishek: Nice to see the killer being almost committed and then going about the investigation.
Underplay king @vijayantony is well comprehended by @simonkking 's music.
Major reveal during the interval. Waiting to see more.
#Kolaigaran
Sreedhar Pillai: Kolaigaran is a gripping edge of seat investigative thriller with nice twists and turns. Terrific performances from lead actors & Technically fab with great BGM . Perfect run time of 110 minutes.
Prashanth Rangaswamy: #Kolaigaran - Congrats @vijayantony anna and @akarjunofficial sir ! Definite victory awaits both. Congrats director @andrewxvasanth for a classic thriller ! Book tickets friends - will be worth your money !! .
#Kolaigaran Interval - Simon King can be renamed as BGM king. Tight cuts , no meaningless shots or scenes, packed air tight. Did not bore even a bit so far. DI top notch !! Looking forward to the second half!
Rajasekar: #Kolaigaran - on the downside, the #Drishyam (which itself inspired from #SuspectX ) connect is an issue in the first half but the changes Andrew Louis made in the characterization of @vijayantony and his motive in the emotional climax sequence is a highlight.Overall,good show
#Kolaigaran - ⭐⭐⭐, definitely a comeback film for @vijayantony after #Pichaikkaran. The biggest plus point is undeniably @akarjunofficial who owns the screen with his sharp and dynamic performance. Film works well in the second half, particularly in the last twenty mins
#Kolaigaran - on the downside, the #Drishyam (which itself inspired from #SuspectX ) connect is an issue in the first half but the changes Andrew Louis made in the characterization of @vijayantony and his motive in the emotional climax sequence is a highlight.Overall,good show
Haricharan Pudipeddi: #Kolaigaran is a smartly executed investigative thriller that majorly works due to its taut narrative and crisp runtime. @vijayantony as the brooding protagonist is refreshing to watch and he's well complemented by Arjun. Shout-out to @simonkking for the terrific score.
Surendhar MK: #Kolaigaran is a finely made thriller. Easily, the most productive, entertaining outing of @vijayantony after #Pichaikkaran. @akarjunofficial churns out a terrific performance as an investigative cop.
#Kolaigaran: The cat and mouse game between @akarjunofficial and @vijayantony makes for an interesting watch, especially the last 20 minutes are good fodder for thriller lovers. Tamil audiences are known to embrace good thrillers and this one is likely to make the cut.
Sivakumar Rokkaraj: #Kolaigaran Super Intense Thriller right from the word go..songs are coming as speed breakers..apart from that everything about the movie is good..@vijayantony acting far improved..Arjun ji is super in cop role..the twists and turns are top notch..Go for it!
@Dhananjayang
Sidhu: #Kolaigaran Interval: Very good first half, with only the two songs being the speed breakers. @akarjunofficial is the show-stealer, every scene featuring him is solid. Nice lil twist at the halfway mark!
Ramesh Bala: #Kolaigaran [3.25/5] : A well made riveting thriller..
Twists and turns keep u hooked till the end..
@akarjunofficial delivers a solid performance as the investigative cop..
@vijayantony plays his role in a subtle, but effective way..
@iamashimanarwal makes a good debut..
#Kolaigaran 1st Half: Racy.. Riveting and Intriguing so far..
Looking forward to 2nd half..
Review Ram: #Kolaigaran (Tamil) - Interval - A couple of songs and a few amateurish dialogues act as a spoilsport. A thriller that moves on an engaging pace. Technically good and the investigations are quite interesting. Break-point is on a high with a solid twist.
'Decent' so far.
Karthick Rishi: #Kolaigaran ! One of the finest edge of the seat thriller in the recent times! Enjoyed unexpected twist & turns in the second half! Kudo's to the whole team @vijayantony sir @Dhananjayang sir @andrewxvasanth bro @akarjunofficial
BHAVESH KHANTED: Watched #Kolaigaran - An intelligent thriller with lots of suspense revealed over time. @vijayantony and @akarjunofficial look daring together. @simonkking 's theme music roars in my head even after leaving the theater. Kudos to team @andrewxvasanth @Dhananjayang @diyamovies