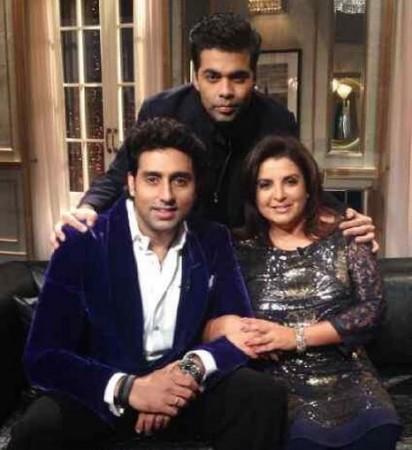 Star couple Aishwarya Rai Bachchan and Abhishek Bachchan had appeared together on the first episode of "Koffee With Karan" season 3, but this year the "Dhoom 3" actor will not be accompanied by his wife on the show.
As promised, Karan Johar's much-talked-about chat show "Koffee With Karan" season 4 has seen some fresh pairing, with stars like Salman Khan and father Salim Khan; Kareena Kapoor Khan and cousin Ranbir Kapoor appearing on the show.
After Salman, Aamir Khan, Akshay Kumar, Ranbir, Ranveer Singh and Arjun Kapoor, now it's time for Abhishek to appear on Johar's famed couch. "Happy New Year" director Farah Khan will appear alongside him. Abhishek and Farah have already shot for the chat show.
Rumours that Aishwarya Rai did not want to appear on the fourth season have been doing the rounds. But according to DNA, it is the show's host Johar who did not want the couple to appear together.
Aish-Abhi had already appeared on the first episode of season 3 and Johar wanted a fresh pair this season.
"All these rumours about Aishwarya not coming on the show because she wants to be elusive etc are not true. She would have loved to be on the show with Abhishek, but Karan wanted a fresh pair. If you notice, this year no pairs have been repeated. Abhishek was asked to come with Farah and he agreed," DNA quoted an insider as saying.
In the show's first season, Jr Bachchan had appeared with actress Preity Zinta. That particular episode had garnered the maximum TRP's.
And this time also, Johar promises to make the Abhishek episode interesting. "Abhishek Bachchan and Farah Khan in the Koffee House!!!! A RIOT!!!" Johar posted on Twitter with a photo.