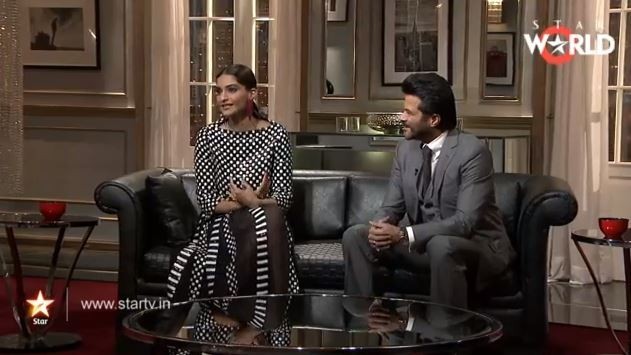 When it comes to general knowledge Fashionista Sonam Kapoor and Alia Bhatt fall in the same league. The Sunday (30 March) episode of "Koffee With Karan" season 4 featured father-daughter jodi Sonam Kapoor and Anil Kapoor for the first time ever.
The "Bewakoofiyaan" actress, who is generally very confident, goofed up during the last segment at the chat show i.e. the general knowledge round.
During the GK round, show's host Karan Johar asked the father-daughter jodi who said "An eye for an eye only ends up making the whole world blind"?
While Kapoor said the correct answer (Mahatma Gandhi), Sonam replied saying "Robert DeNiro".
When Johar shockingly asked her "What! How can you say Robert De Niro?" she said "I don't know what this is? I don't remember it."
Her father too was shocked with Sonam's answer and even he couldn't stop laughing.
Johar couldn't let that moment pass without making fun of the actress. Although, Sonam was bit embarrassed she was sportive enough to take the jibe in her stride.
However, the whole incident reminded of "2 States" actress Alia Bhatt who also goofed up during the GK round.
When Johar asked who the President of India is, Sidharth Malhotra replied Pranab Mukherjee, while Varun Dhawan said Manmohan Singh and Alia Bhatt surprisingly said Prithviraj Chavan, who is the current Chief Minister of Maharashtra.
Bhatt later replied saying, "Sorry, I got confused both their names start with P."
Check the Sonam-Anil and Sidharth-Alia-Varun's "Koffee With Karan" full episode here: