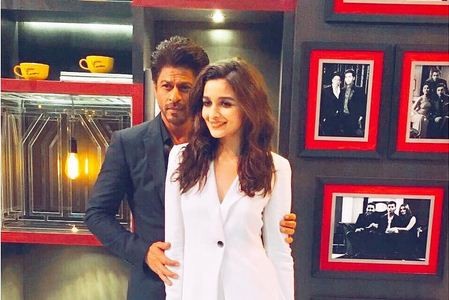 There's no doubt that Shah Rukh Khan is very witty. And he proved it more than once on Koffee with Karan 5. He appeared with Alia Bhatt on the show since their film Dear Zindagi is up for release. Alia, of course, had a disastrous debut on the show when she goofed up a question from Karan about the name of the Indian president.
One of the important things SRK said was that he was an "idiot" for not having done the film 3 idiots. Well, that role he rejected went to Aamir Khan and the rest is of course history.
It's normal that stars are asked about other actors on the show. But when King Khan spoke about Ranveer Singh he said a quirky thing. He spoke about wanting to know if Ranveer was wearing a padded underwear in Befikre! That's surely a first on a chat show, isn't it? Wonder why he chose to talk about Ranveer and Befikre!
Meanwhile, Alia Bhatt seemed to be showing her claws as well. When asked by KJo whom she'd like to stalk, she said Kanagana. And why? Because the actress was always at the airport and she wanted to know where she was going! It's not the choice of the actress that surprises people but the fact that she was always travelling. What was Alia trying to say?
Alia, who was on the couch with SRK, didn't really seem comfortable initially, especially when KJo and he were talking about their supposed fight.
SRK didn't appear on Koffee with Karan last year and there was a lot of speculation about why he did that. Instead, Salman Khan appeared on the first episode. Now it looks like all is well between SRK and KJo. So do we see them doing a film together? We'll have to wait and watch.