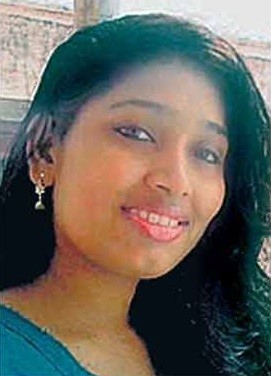 Even as a section of vernacular media cited "love jihad" as the possible cause behind the mysterious death of 23-year-old post graduation student Anooja, the Kochi police on Sunday took her live-in partner into their custody.
Reports on some online Malayalam news sites quoted students of Ernakulam-based Maharaja's College, of which Anooja was a student, as saying that Shaheen Force, the women's wing of dreaded terrorist group al Qeada, could be responsible for her death. The group is reportedly active in various colleges across Kerala.
On the other hand, her parents -- Puthusseriparambil Ashok Kumar and Shailaja -- have alleged that Anooja was murdered by her live-in partner Valiyakath Khaleem, 34, who has a tainted past. They insisted that their daughter could not commit suicide.
Some reports also claimed that Khaleem is married and has children. He was earlier involved in various crimes, including the "murder" of Yuva Morcha activist Manikandam in Thrissur and attempting to murder Vattekad CPM leader Subin.
Khaleem, a member of National Development Front (NDF), had informed the police about Anooja's death at 8.30 pm on 15 May. The Kerala native was found hanging in the couple's rented house in Kalamassery.
Anooja was reportedly found tonsured and Khaleem is said to have admitted to oblige her request to shave off her hair. The couple had been living together for about two months as Khaleem had promised to marry Anooja days after they met on social networking site Facebook.