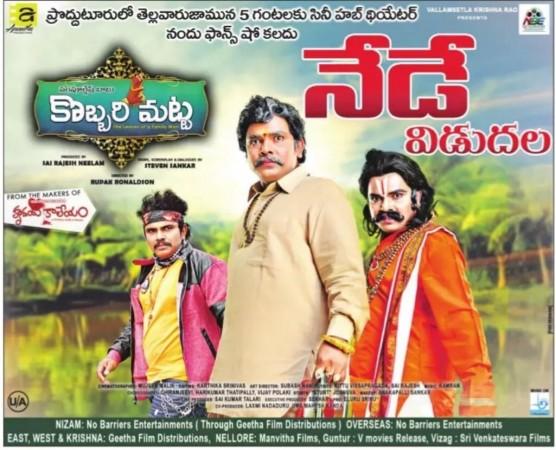 Director Rupak Ronaldson's Telugu movie Kobbari Matta featuring burning star Sampoornesh Babu in the lead role, has received positive review and good rating from audience.
Kobbari Matta is spoof action comedy film and Hrudaya Kaleyam director Steven Shankar has written story, screenplay and dialogues for the movie, which has been produced by Sai Rajesh Neelam under the banner Amrutha productions. The flick has got a U/A certificate from the censory board and its runtime is 2.15 hours.
Kobbari Matta movie story: Rayudu (Sampoornesh Babu) is the head of his village and lives with his three wives. Everything is going well, until Androidu (Sampoornesh Babu) enters in to his film and creates a havoc. What happens next forms the crux of the story of the film.
Performance: Sampoornesh Babu has played three different roles in Kobbari Matta and done justice to all of them. His performance is the highlight of the film. Ishika Singh, Shakeela, Mahesh Kathi, Gayathri Gupta and others have also done good jobs and they are also among the assets of the film, say the audience.
Technical: Kobbari Matta has good production values and music, background score, picturisation, dialoue and action and dance choreography are the attractions on the technical front, add the viewers.
Kobbari Matta movie review live updates: We bring you some viewers' verdict on the film shared on Twitter. Continue to read audience's response.
Hemanth Kumar C R @crhemanth
Sampooooooooooo!!!!! #KobbariMatta is fun not because it is absurd, but it gives a chance to laugh at ourselves and that is a rarity Full credit to Rupak @sampoornesh and @sairazesh for pulling this off. #KobbariMatta This is a spoof of #Pedarayudu...but you could also say that the film trolls so many cliches in commercial Telugu films and family dramas. #KobbariMatta
Ravi Kumar Pilla @ravikumarpilla
#KobbariMatta 1st half super laugh riot. EVV nie gurthhkuthecharu @sairazesh. @sampoornesh nuvu keka sammy. #KobbariMatta 2nd half is so good r. @sampoornesh nuvu thrumuu sammy. Stress buster for this weekend. Must watch. @sairazesh waiting more flims like this with better versions.
SKN @SKNonline
#Kobbarimatta is rib trickling hilarious fun ride, if U liked #HrudayaKaleyam u will love #Kobbarimatta it is a diff genre in TFI a stress buster from regular films hats off @sairazesh for creating it also @rupakronaldson & team WATCH it u will laugh heartfully for sure
#SaahoOnAug15 @naresh00077
#Kobbarimatta is just awesome if you like the genre of spoof films. One of the best unintended comedies of our time. Do not miss
Nitin Chakravarthy @Nitinreddy1111
Watching #KobbariMatta now. 5 years of long wait has come to an end finally Rofl first half @sampoornesh & @sairazesh on fire Lots of hilarious moments so far #KobbariMatta
YATHI®️ @ursyathi
#KobbariMatta comedy baagundhi, @sampoornesh dialogues & dances baaga chesadu. Watch it
Praveen @PravinMegaFan
#KobbariMatta - Watch it With Ur Friends Gang Good first half Second Half Hilarious Those 2 Songs In Second Half @sairazesh Congratulations Anna ❤️
Filmydosa @filmydosa1
#KobbariMatta ok first half.. entertaining second ..can be watched once if u like #hyrudayakaleyam type movies 2.75/5...
Parota @THEPAROTA
#KobbariMatta: The film is completely an over the top comedy and major credit should go to @sairazesh for even thinking of a story like that and having @sampoornesh do three roles. Worth Watching & #Sampoo will not disappoint you at all. Rating : 3/5
Ramcharan Devote @TejaHareesh
At finally Hit kottav Rajesh bro 2nd half sampu acting Paisa vasool Entertainment Music one of + point Congrats to the whole team of #KobbariMatta @sairazesh @sampoornesh
JMediaFactory @JMEDIAFACTORY_
Burning star @sampoornesh spectacular performance in 3 different roles, family emotions and hilarious comedy made #KobbariMatta a BURNING HIT!! Congrats entire team Special mention @sairazesh @rupakronaldson
Sarileru @EvadaiteNakenti
Average first half Hilarious second half #kobbariMatta is a senseless keka Hrudaya Kaleyam range ledu kani but entertaining ga undi Hittu sainma B C centers lo ninna release aina bommani utha cheddi midha urkinchi kottadam confirm ankunta
Nagesh @Nagesh4Tarak
And finally the review comes here... First half: Full masala dailouges with good entertainement and shows mostly the combined family scenes with hilarious comic sense.. @sampoornesh did his best and ofcourse the outcome shows the result.. #KobbariMatta #KobbariMattaReview