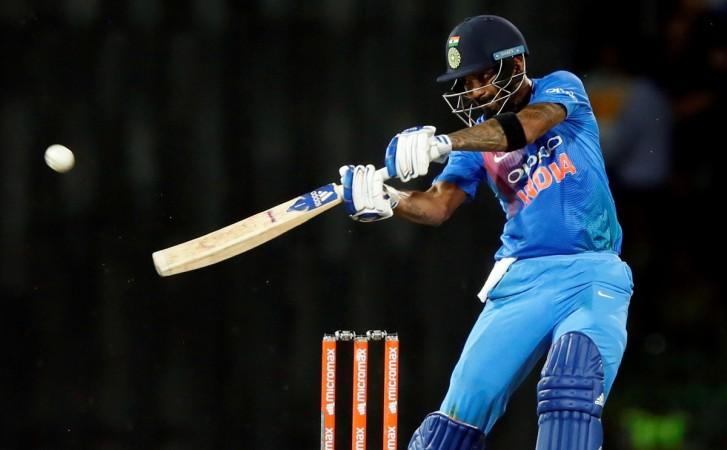 First, India captain Virat Kohli pushed opening batsman KL Rahul to the middle order in Sri Lanka. The Karnataka batsman failed. And later he did not get a game in Australia ODIs and finally was dropped from the team for New Zealand series.
Today (October 21), Kohli has admitted that he can't "forcefully" have openers batting in the middle order in the limited-overs format. The skipper spoke on why Rahul was not part of the Indian team for the three ODIs against the Kiwis. And his words indicate at right-hander's long absence.
"This series (against New Zealand), Dinesh Karthik has come in for KL (Rahul). KL opens mostly. So we did not want to have a situation like what Jinx (Ajinkya Rahane) was going through - to play in the middle order forcefully because of what the top-order is doing," Kohli said on the eve of the first ODI in Mumbai.
Also read: Rahul let down by Kohli, Shastri
He added, "We thought he (Rahul) should get some game time at the first-class level. We got Dinesh, who is used to playing in the middle-order, more comfortable, more aware of how to bat in the middle order."
Rahul is now part of the Karnataka squad to face Hyderabad in Ranji Trophy from October 24. Against Sri Lanka, Rahul failed with the bat in the middle order, scoring 4, 17 and 7.
During Australia ODIs, which India won 4-1, Rahane hit four consecutive half centuries as an opener. He got a chance to partner Rohit Sharma as Shikhar Dhawan returned home to attend to his unwell wife.
Also read: India-NZ series schedule, squads, Live streaming, TV info
"Jinx has really grabbed his spot as third opener. As I said, KL was competing for the spot as well. But jinx has performed well. he has taken his chances.
"We don't want to confuse him (Rahane) too much by making him play in the middle order. He likes playing at the top-order where he is a solid player because of his technique," he said.
The 28-year-old Kohli has done a U-turn on what he spoke in Sri Lanka in August. Then, before the five-match ODI series, Kohli had announced that Rahul will bat in the middle order and the team "won't be predictable" with the batting order. Now, the move has backfired.
"KL is such a solid player. Before injury he had done well in all the three formats. KL Rahul will definitely be playing in the middle-order but we won't be predictable or have a set pattern anymore. Anyone can bat anywhere," the skipper had said on August 19, 2017.
In the series against New Zealand, Rohit and Shikhar will open the batting. Rahane will have to sit out despite doing well. The Mumbai batsman can return only if one of the two fail in the opening two games.
For Rahul, he has to focus on Ranji Trophy and wait for his chance. His ODI future, as an opener, is uncertain, as of now. After the series against Kiwis, Sri Lanka arrive in India for Test and limited-overs matches. Will he be recalled?