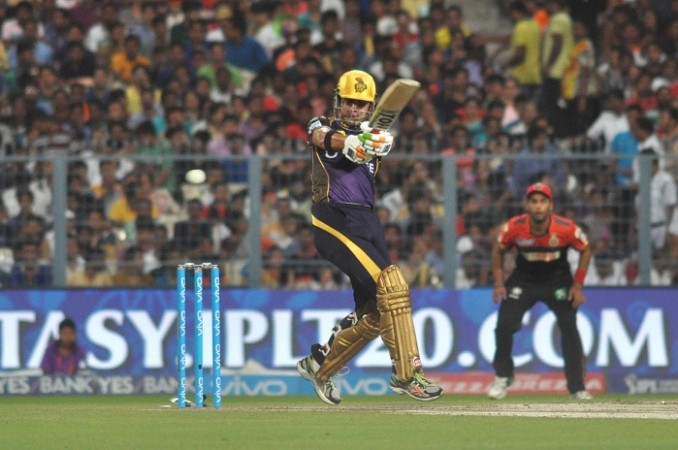 Kolkata Knight Riders have played some good cricket this season, but have lacked consistency overall. Such inconsistency has landed the team in a must-win game against Sunrisers Hyderabad at Eden Gardens in Kolkata on Sunday.
At one point of time in IPL 2016, KKR were almost safe in the playoffs race, but their performances of late have been below par, hence there is serious need for their players to lift their game against SRH, and emerge victorious. SRH can guarantee a top-two spot if they win their last match of the league stage.
Here is a look at how the IPL 2016 game could flow.
If KKR bat first: Gautam Gambhir and Robin Uthappa look solid. They get their team to a great start, scoring 53 runs in the first six overs. Things look even better for KKR as Uthappa takes the attack to the bowlers, and deals in fours and sixes, but the batsman is out for well-made 48 runs. Colin Munro comes to bat, and makes an immediate impact, playing a cameo with an 18-ball 40. There is short break of around 30 minutes due to rain after which Munro and Gambhir lose their wickets in the 16th over, but they are in good position with 128 runs on the board. Yusuf Pathan and Shakib-Al-Hasan flourish at the end, and takes their score to 186 runs.
A poor start from SRH, as they lose Shikhar Dhawan in the third over of the innings. David Warner is not perturbed as he plays his shots alongside Eoin Morgan. The two left-handers are in full control as they score 63 runs in the Powerplay. Morgan is out, which bring Yuvraj Singh at the batting crease. He also gets going and SRH reach 100 runs in the 11th over, but the Sunrisers lose two quick wickets. Narine removes Warner and Yuvraj, which puts SRH on the backfoot. Henriques fails to deliver under pressure, and the SRH lower order bombs, and they fall short by 35 runs.
If SRH bat first: Warner and Dhawan seems to be on a league of their own, playing some beautiful shot, but SRH lose both their wickets in the sixth over. Morgan and Yuvraj show their class, and play some fine shots all around the park. One also needs to applaud the two batsmen for their running between the wickets. They are looking dangerous as the duo deals in fours and sixes but it rains, and the game is disrupted for a few minutes. Morgan and Yuvraj looke even more dangerous after the rain as they score runs for fun, and both players reach their respective fifties as well. Yuvraj falls soon after, but Morgan and Henriques helps SRH score 192 runs in 20 overs.
The pressure seems to have got to KKR very early as Gambhir and Uthappa are playing and missing too much. However, Gambhir gets going in the third over, and continues playing his shots for fours all around the wicket. Uthappa loses his wicket in the eight over. Pathan is promoted up the order, but he scores 11 runs only. KKR are under pressure as the required rate is increasing. Manish Pandey plays a brief innings of 20 runs from 10 balls, and goes back to the dugout. Gambhir needs some support, but KKR are not able to build a partnership, and the left-hander is caught in the deep. KKR are in a difficult position as they require 88 runs in the last seven overs, with no proper batsmen, and they only manage 56 runs, resulting in a loss.