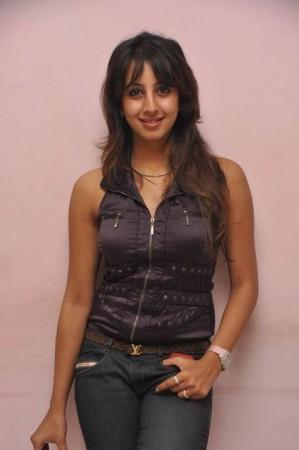 Popular South Indian actress Sanjjanaa Galrani has cleared her stand on Rashtriya Hindu Sena chief Pramod Muthalik's campaign against 'Kiss of Love', stating that she supports him because many youth are abusing this opportunity in an ugly way.
'Kiss of Love' protest is a non-violent protest against moral policing. Started in Kerala in October 2014, the movement spread to other parts of India, but received opposition from various religious and political groups. Now, Hindu Sena has started a campaign against it in Karnataka.
Kannada News channel TV9 held a debate on the protest earlier this week. Along with Muthalik and few others, Sanjjanaa took part in it and was seen engaged in an argument with the Hindu Sena chief. Many activists of the group misunderstood her to be the supporter of the protest and blasted the actress on her Twitter and Facebook pages.
Upset Sanjjanaa took to her Twitter on 19 November and in a series of tweets, she cleared her stand on the novel protest. "India+Indians both ain't in a stage to understand and conduct "kiss of love" the way it has to b with dignity and keeping our culture In mind."
She tweeted, "#Kissoflove objective is to spread healthy love every wear with every1,many college kids are abusing this opportunity in a wrong/ugly way! Considering the #negativity #controversies #police patrolling that #KissOfLove is surrounded by,its a good idea to give it a miss #avoidable."
The actress continued, "Guys stop misunderstanding me, never supported kiss of love, the event should strictly not happen because there is no class and dignity in it! Kissing a girl on her cheek who is a friend, a mom, sister in public is not wrong, That's what I tried to say, If u think I'm wrong I request u to unfollow me! if u have the capability to understand me in a positive dimension u are most welcome humble thanx for all ur support."
She clarified her stand by adding, "#kissoflove happens or not I don't care because I am not a supporter, I am dragged in it unnecessarily, targeted for entertainment #avoidable! I attended the tv9 discussion lik any other celebrity did,it's just blow outta proportion, ppl are forcing there opinion on me as a supporter."