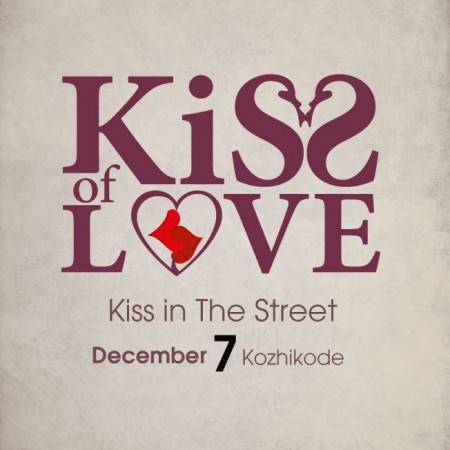 After its controversial run in cities like Kochi, Kolkata and Delhi, the team of "Kiss of Love" is now taking the protest forward. The team is now set for their next episode in the city of Calicut (Kozhikode) on 7 December at 4 PM. The team have changed the title of the Calicut episode to "Kiss in the Street" and thereby urging the supporters to protest in the streets of the city rather than gathering at a single spot.
"It has been a matter of pride knowing that the young thoughtful India has headed the baton of "kiss of love" to fight against moral policing. At the same time we are getting hundreds of messages and phone calls about when and where the next protest is going to be conducted by Team Kiss of Love,' said the Facebook page of "Kiss of Love."
Reportedly, the new protest will not only include public kissing but would also have cultural meets and seminars associated with the event. The organisers of the event are hoping for more public support from Calicut as it all began there.
The idea of "Kiss of Love", the first public kissing event came to shape after Yuva Morcha, BJP youth wing vandalised "Down Town", a coffee shop in Calicut. The youth wing activist claimed that the coffee shop was propagating the "western culture" of kissing and dating. The attackers even went to the extent of beating up the visitors of the cafe after they were found spending some "intimate" moments in the cafe.
The first episode of "Kiss of Love" held at Kochi's Marine Drive had gained a lot of media attention and public backlash. The event had also triggered a lot of debate for and against the criminalisation of kissing and moral policing. However, the Kochi protest became a war like situation when the police lathi-charged those present at the event following a clash between the supporters and protesters of "Kiss of Love". Police later arrested nearly 40 people associated with the protest.
Followed by "Kiss of Love", Kochi, the trend was later carried by many in the cities of Kolkata and Delhi. With the upcoming episode of "Kiss of Love' in Calicut, the protesters against moral policing are now hoping that their message will be conveyed in its right sense.