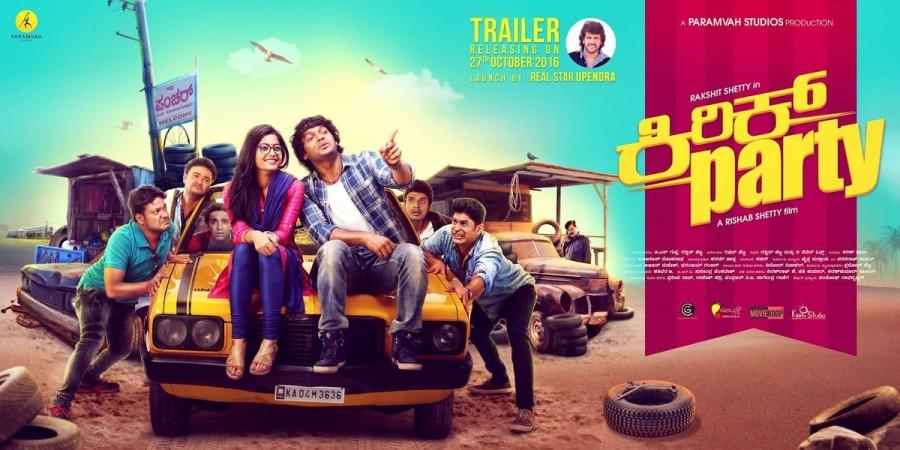 Kannada movie Kirik Party marks the second union of Rishab Shetty with Rakshit Shetty. The two had earlier collaborated in Ricky. Their latest Kannada movie was released on Friday, December 30.
Also read: Sandalwood 2016: Highest-grossing Kannada movies of 2016 at the box office
The movie stars Rashmika Mandanna, Samyuktha Hegde, Pramod Shetty, Achyuth Kumar, Dhananjay Ranjan, Arohitha Gowda and Salman Ahamed. The Kannada film features Karam Chawla's cinematography and Sachin's editing. B Ajaneesh Loknath has composed the music, and a few songs, including Thirboki Jeevana, have impressed viewers.
The movie tells the story of a group of students, who turn into good friends despite belonging to different streams of engineering. Their mischievous activities are narrated in the film with a lot of humour. But at one point, the story takes a twist and questions the very basic thought process of the hero. What follows next is the best part of the Kannada movie.
The trailer and the audio were an instant hit with the youngsters. The biggest challenge for the makers is whether Kirik Party stands different from all the other movies made in this genre. Will it live up to the viewers' expectations? Find it in their words below:
Cineloka.co.in: #KirikParty
Whistles Galore as #Belageddu Song Begins. Amazing Composition by @AJANEESHB. Nicely Picturized. Song of the Year 2016 ❤️
#KirikParty Looks Fresh & Entertaining. Tirboki Jeevana starts off on a Promising Note. Time to revisit Engineering Days
#DumDaare Begins. Audi Jam-Packed with Youth Audience. #Karna #Saanvi
Pre Interval Twist #Speechless 3 Years, 6 Semesters & 2 Backlogs Later - Nice Makeover #Kickass 1st Half @rakshitshetty
Shashiprasad S M: #KirikParty A brilliant piece of entertainment to end #2016 Takes you back to the golden era of all your life #Highly #recommended
Nagaraj Kulkarni: The #KirikParty movie is awesome full of fun,enjoyment,little emotion and unbeatable friendship values,gd movie,keep it up @rakshitshetty
Karthik Gowda: #Kirikparty s a beautiful feel good movie which will be loved by all. Humor works big time and is fresh in many scenes.
Vishwanathkp: #KirikParty a #kickass movie.... Would come as a #Phoenix when new year raises.... @shetty_rishab @rakshitshetty @KirikParty
Harish: Interesting twist just before the intervel! I mean 3yrs, 6semesters and 2 backlogs later. #KirikParty.
Sumanth: #KirikParty The humourous first half ends with a serious "Neecha Naalige" interval. Easily one of the best interval bang. First Half
NamCinema.com: #KirikParty Interval update - Highly spontaneous, thoroughly engaging beautiful filmed #KirikFull 1st half. Fun all the way
Vinayak Pattar: #KirikParty one more Kannada movie that shows the class of the industry lies in originality.
Kudos to #KirikParty Team. Job well Done. Expectations Met in Style Team Effort Evident on Screen @rakshitshetty @shetty_rishab @AJANEESHB
Vivekshekar: #kirikparty @rakshitshetty awesome movie. Very nicely balanced loved it. Hats off to you guys. Have fun with #kirikparty at theaters.
Siddrameshwar: @rakshitshetty Superb performance. Excellent movie. Nim gadi tharaha movie nu correct aagi park aagide . Hats off .
@rakshitshetty Superb performance. Excellent movie. Nim gadi tharaha movie nu correct aagi park aagide . Hats off #kirikparty
Avinash mp: #KirikParty A brilliant piece of entertainment to end #2016
#dontmissthisparty @rakshitshetty @shetty_rishab
Prince: #KirikParty Kickful #Kickass party @rakshitshetty @SamyukthaHegde @rashmikamm wins our heart wth bst prfrmnc, wll dn gys, don't mis
#KirikParty youthful entrtainr. @rakshitshetty rcks wth fine shw. @SamyukthaHegde kills wth cutenssd kirik Its perfct treat 4 nw yer
Mahesha: Watched #kirikparty in Vijayalakshmi theater awesome movie wholesale entertainment second half little drags bt gives amazing feel
Yashwanth: #KirikParty A brilliant piece of entertainment to end #2016 Takes you back to the golden era of all your life #Highly #recommended
#Kirikparty this time also @rakshitshetty n team impresses yet again Super HIT n GOOD movie at year end for our Kannada film industry .
#Kirikparty Interval purely musical n fully fun filled twist at interval unexpected
Sunil Nagaraja: #kirikparty Great movie to watch,Full entmnt.not evn a single momnt u get bore Awsm Actng great music,BGM,keeps evry momnt lively & Joyful
Akash R Patil: @KicchaSudeep Anna just now I watched #KirikParty.. it was fabulous.. pls watch it.Surely U will recall all ur clg memories. @rakshitshetty
Kiran Kumar: @rakshitshetty watched #kirikparty awesome movie. thanks felt like im in Clg. V will remember this classic movie fr longer time. Luv u guys