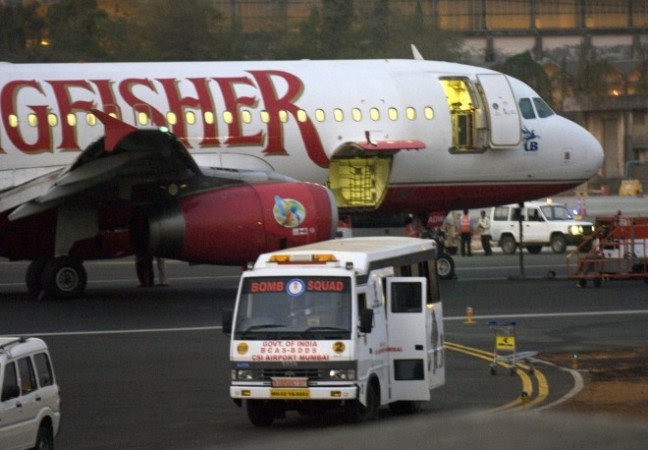 The Delhi High Court on Monday has directed the Directorate General of Civil Aviation (DGCA) to de-register two planes of crisis-struck Kingfisher Airlines leased by German aircraft leasing firm DVB Aviation Finance Asia PTE Ltd.
DVB had seized the two planes to Kingfisher Airlines in Turkey where it was flown for maintenance and repair work.
Asking DGCA to de-register the two aircraft, the High Court Judge Justice Rajiv Shakdher said, "The petition is allowed. DGCA is directed to deregister the two aircraft which are lying outside the jurisdiction of this court," Press Trust of India reported.
The judge has also asked authorities of the debt-ridden airline, which remains grounded since last October, to hand over the original documents of the leased out aircraft to the German firm within four weeks.
The judge went on to say that the DGCA cannot hold back de-registration of the aircraft as Kingfisher owes money to the government and its agencies.
"It is made clear that if any dues remain payable from the airlines, the respondent (DGCA) can take recourse to appropriate measures against respondent 2 (Kingfisher)," Justice Shakdher said.
The judgement on the de-registration of the two aircraft came soon after it was reported that a majority of the 15 planes leased to the airline by various lessors were not fit to fly.
"These lessors have discovered that aircraft parts have been so badly cannibalized that it is very difficult to restore the planes. In its last few months of operation (KFA stopped flying from October 1, 2012), the airline kept taking parts from its fleet to keep a handful of planes airworthy. Now the planes have been ravaged beyond repair and they can't fly," said a senior Airports Authority of India (AAI) official.
According to reports, the aircraft in question were all Airbus A-320s which cost over ₹500 crore. The lessors could also charge an amount of ₹2 crore per month based on the current market rate if these aircraft were given out on lease.
The authorities of AAI will soon hold an internal meeting this week about freeing the airport slots occupied by these aircraft.
"The only way for these aircraft may be the junk yard. Lessors will drag KFA promoters to court to recover their losses," the official said.
The lessors of these 15 aircraft have not applied to DGCA seeking de-registration as they would have to pay parking fee from the day of de-registration till the day they are flown out.