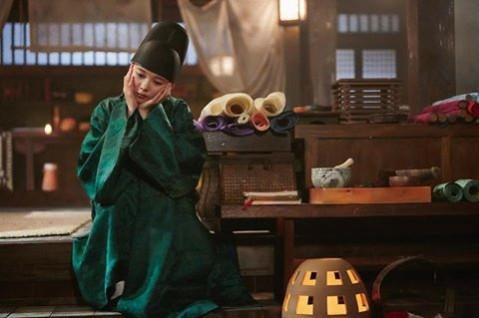 The scene in the seventh episode of Moonlight Drawn by Clouds where Kim Yoo Jung's character Hong Ra On kisses crown prince Lee Yeong, played by Park Bo Gum, caused quite a bit of scandal as the actress is a minor.
But that was not what was worrying Kim Yoo Jung when she filmed the scene. The actress was dressed as a male character when she filmed the kissing scene and this made her feel peculiar, Kim Yoo Jung told Biz Enter. "Truthfully, when I was filming [the kiss scene], I was more worried about the uniform I was wearing than the kiss itself," she said.
Another scene that caused quite a stir was that of her wrapping her chest with bandage to hide her gender. Kim Yoo Jung played a eunuch in the first half of the historical romance drama. "While there was a worrying aspect of it, it was a necessary scene to show Hong Ra On's emotional state. It received attention because it turned out well, and there are other people who thought of it from a different point of view," the actress explained.
The Korea Communications Standards Commission issued a notice to KBS regarding these two scenes noting that the issue gained a lot of attention because a minor was involved in these two scenes.
"The biggest problem is whether a minor can play an adult role," a statement from KCSC noted, according to Soompi. "One might say that since the standards are ambiguous anyway, why not just let it go, but if we go easy on Kim Yoo Jung, who is 16 years and 10 months, then later on, there will be questions on whether we should let a 15-year-old do the same thing. We need to discuss whether we can continue to let minors play adult roles. We are worried about young adults being provocatively exposed."
Moonlight Drawn by Clouds aired its finale on October 18.