SHINee's bandmates and the relatives of Kim Jonghyun led the procession for the funeral of K-Pop superstar Kim Jonghyun, who committed suicide on Monday. The 27-year-old was the lead singer of one of the popular boybands, SHINee.
His bandmates and relatives, all dressed in black, carried his coffin from the hospital to a hearse on Thursday for his last rites, while hundreds of his tearful fans waited outside to catch the last glimpse of their favourite idol.
His sister led the procession holding Jonghyun's photo, while the SHINee members and members of Super Junior, which is managed by the same agency, carried his body.
A three-day funeral service was organised which began on Tuesday with hundreds of fans standing outside the Asan Medical Center for two days. Several members of the top K-pop groups, including BTS, Girls' Generation, NCT, and BoA, also paid their last respects to Jonghyun.
The funeral of Jonghyun took place on the third day, i.e. on Thursday. The family has disclosed the location because they wanted it to be a private ceremony.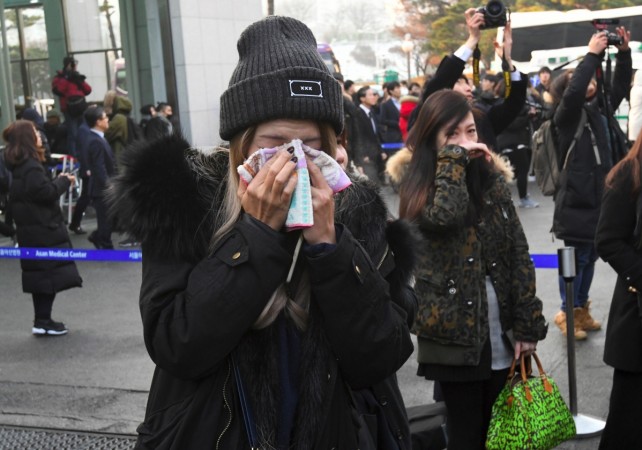 Jonghyun, the lead singer of SHINee, committed suicide on Monday. He was found unconscious at his rented apartment studio in Cheongdam-dong, southern Seoul, at around 6.10 pm local time. The singer had sent a text message to his sister in which he mentioned "final farewell."
He also shared his last note with his friend and the lead singer of rock group Dear Cloud. In his last note, which was made public on Tuesday, he talked about depression.
"I'm broken from the inside. The depression that has slowly nibbled me away has now devoured me, and I couldn't overcome it," Jonghyun wrote, according to the Instagram post.
"I thought being a doctor was so easy when blaming it on my character in a quiet voice. It's amazing that it hurts this much. No one alive is more tormented nor weaker than myself."