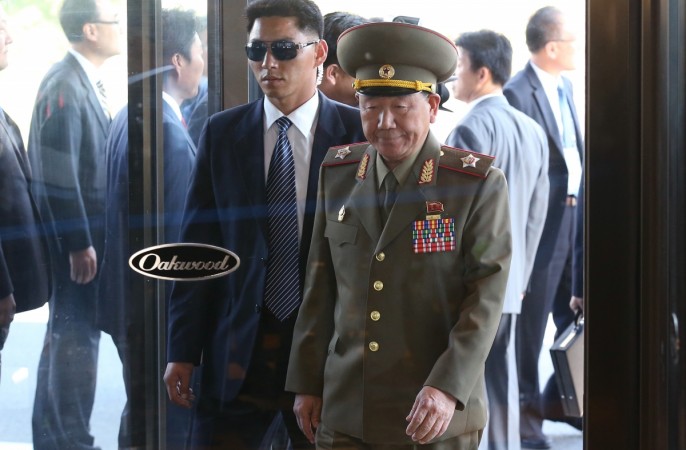 North Korea and its leader Kim Jong-un often make headlines, not just for the ballistic missile tests, but also for the stringent regime. The country is known to mete out harsh punishments to anyone who falls out of line, and the latest victim seems to be the leader's top aide General Hwang Pyong-so.
Hwang, who is known to be one of Kim's closest aides and was even described as the "second-most powerful man in North Korea," has reportedly been missing from the public eye, sparking fears that he may have been executed by the country's infamous death squad.
While he held the position of the Vice-Marshall in the country, he was expelled from the party for "taking bribes" and his "impure attitude" and hasn't been seen since October 13, reported ANI.
Speaking of Hwang's whereabouts, South Korea's Yonhap News Agency said that Hwang as well as his deputy, Kim Won-hong, had been expelled and "punished." The deputy was sentenced to one of North Korea's prison camps, whereas Hwang seems to have fallen off the face of the earth.
"If Hwang was indeed kicked out of the Workers' Party, it would practically mean the end of his political career, and possibly his life, though it is unknown whether or not he is still alive," South Korean daily JoongAng Ilbo reported.
Speculations about his execution first emerged in November, but nothing has been confirmed yet. However, the news especially gains significance now, as the North Korean leader recently visited Mount Paektu, a volcano on the North Korea-China border. It has been said that Kim visits the peak before he takes a drastic step and this time it could be the execution of Hwang.
The last time Kim climbed Mount Paektu, his uncle and a leading general Jang Song-Thaek, who, Kim believed was counter-revolutionary, was executed along with several family members.
If Hwang was indeed executed, this wouldn't be the first time that Kim has eliminated a close aide. In the past, the reclusive North Korea leader has ordered the execution of numerous aides, family members, as well as rivals and the list comprises half-brother Kim Jong-nam, top education official Ri Yong-jin, defence minister Hyong Yong-Choi, and vice minister in the army Kim Chol to name a few.
Kim Jong-nam was killed at the Kuala Lumpur airport on February 13. Two women -- Doan Thi Huong, 29, from Vietnam and Siti Aisyah, 25, from Indonesia -- were said to have rubbed the banned VX nerve agent on Jong Nam's face. Jong-Nam was at the airport waiting to board a flight to Macau but died about 20 minutes after the attack. However, the two women pleaded not guilty at the start of their trial in Malaysia and said that they were tricked into the act by North Korean agents. They claimed that they took part in the process as they were told it was a prank for a hidden camera for a TV show.
Their defence lawyers have also said that Huong and Aisyah are innocent and the real killers have in fact left Malaysia.