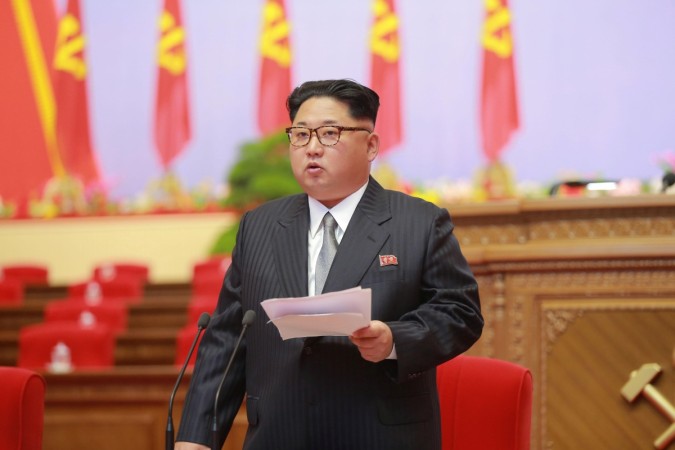 North Korea's ruler Kim Jong Un is expected to be elevated to the post of the general secretary of the ruling Workers' Party, a title that was also held by his father and grandfather, during the ongoing party congress in Pyongyang. He currently holds the title of first secretary.
Kim Jong Un kicked off the Workers' Party congress on Friday, in a rare meeting that is being held after 36 years. Among the top agenda at the congress is the announcement of Kim's "byongjin" policy for simultaneous economic growth and development of nuclear weapons, as well as change in the central leadership, including a new title for Kim, the state-run Korean Central News Agency reported on Saturday, according to the Associated Press.
The North Korean ruler opened the seventh congress on Friday by hailing the "thrilling explosion" from the nuclear test conducted in January, for which it was slapped with its toughest sanctions by the United Nations.
"Our military and people achieved the great success of testing the first hydrogen bomb and launching the earth-observation satellite Kwangmyongsong-4 in this year of the seventh congress," Kims said, according to Bloomberg.
The announcement of the congress meeting raised concerns of Pyongyang likely conducting its fifth nuclear test. On Friday, 38 North, a think-tank at Johns Hopkins University's School of Advanced International Studies in the United States, reported that North Korea was preparing to conduct a nuclear test in the "near future."
"Vehicles have been spotted at what is believed to be the Command Center, located approximately 6 kilometers south of the test site," the think-tank said, adding that such movement was "not often seen there except during preparations for a test."
North Korea amplified its nuclear rhetoric in recent months, even threatening nuclear strikes on the U.S. and South Korea as the two countries carried out their largest joint military exercise.
The last such congress in North Korea was held in October 1980, even before Kim Jong Un was born.