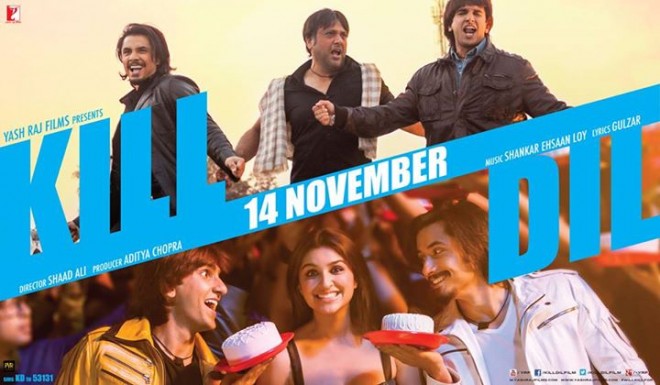 Ranveer Singh's "Kill Dil" box office collection dropped drastically on first Monday in India. The Shaad Ali's directorial has failed to pass the first Monday test at the domestic box office.
The film minted only ₹2.80 crore on Monday, which is approximately 50% lesser than its first day's earning.
Here is the domestic breakup of the movie: Friday ₹6.53 crore, Saturday ₹6.35 crore, Sunday ₹7.30 crore and Monday ₹2.80 crore.
"Kill Dil", which features Govinda, Ranveer, Ali Zafar and Parineeti Chopra, was released in 1,800 screens in India. The film created positive buzz before its release, but negative reviews and not-so-strong word of mouth affected its income on the second day itself.
The opening day and second day income were in the same range; however, on Sunday the business showed upward trend. The film could have raked in better collections, but the weak storyline and songs turned out to be the main drawbacks for the film.
"'Kill Dil' hit about 1,800 screens Nov 14 and the budget was about ₹25 to 30 crore. It has collected approximately ₹20 crore in three days. We were expecting more from it. It hasn't been appreciated by people," IANS quoted Rajesh Thadani of Multimedia Combines as saying.
On the other hand, the film is doing well in the international markets especially in Pakistan and United Arab Emirates.
"Kill Dil" minted ₹1.6 crore (PKR 26,494,000) from Pakistan and ₹3.69 crore (AED 2,194,660) only from the UAE box office in its opening weekend. But in other circuits, the film has performed poorly.
From the US box office it minted ₹82.27 lakh ($133,192), from Canada it minted ₹23.97 lakh (US$ 38,809), from UK it minted ₹95.16 lakh (£ 98,074), from Australia it raked in ₹20.89 lakh (AS$ 38,553), New Zealand's collection stands at ₹8.07 lakh (NZ$ 16,406) and Malaysia at ₹1.97 lakh (MYR 10,691).
The total opening weekend overseas box office collection of the film stands at ₹8.08 crore (USD 1.308 million), according to Bollywood Hungama.