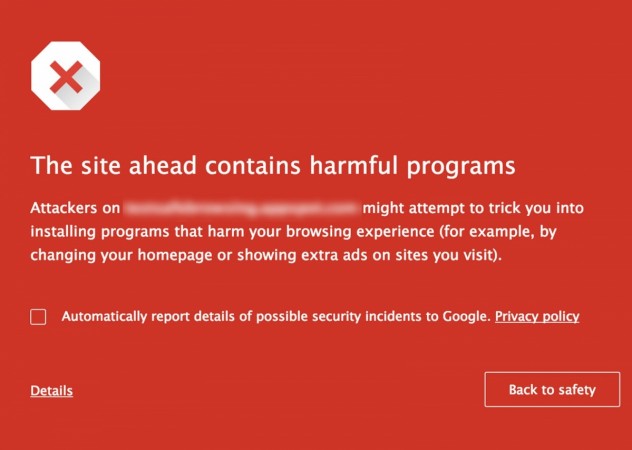 "The site ahead contains harmful programs," reads a new message when you try accessing your bookmarked torrent sites using Google Chrome browser. Several users are being redirected to a scary-looking red warning page while trying to go to sites like Kickass Torrents, Torrentz, ExtraTorrent and RARBG.
This has left the administrators of the websites puzzled, but Google's latest move is a part of the company's SafeBrowsing initiative. The warning sign is similar to what Google showed us earlier in February.
"The site ahead contains harmful programs. Attackers on (the file sharing site the user has attempted to access) might attempt to trick you into installing programs that harm your browsing experience (for example, by changing your homepage or showing extra ads on sites you visit)," reads the warning message on Chrome browser.
Google does not give any details about the source of the problem, but TorrentFreak found the sites to be described as "suspicious" by Google's Safe Browsing diagnostics pages and explains the risk of malicious content being dumped into legitimate sites.
As a result, site admins are not happy with Google's response to their websites. Extratorrent and RARBG have strongly opposed the allegation of their websites containing malicious software and unblocked their websites by resolving issues with Google.
"There is no malicious software and you are still able to load ExtraTorrent in Mozilla Firefox, Opera, Chromium and other browsers. We'll contact Google to resolve the issue shortly," the ExtraTorrent team told TorrentFreak before the website was unblocked. In an update, TF reported that some users were unable to access several torrent sites using Mozilla Firefox browser.
Besides blocking the "suspicious" websites, Google has also ranked down the popular torrent websites. When you search Kickass Torrents on Google Search, the results show the site's Wikipedia page, Twitter account and news articles instead of a link to the actual website.