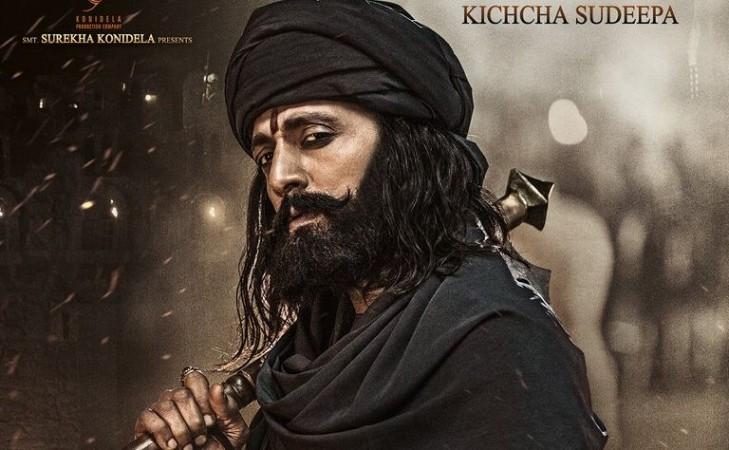 Pro-dubbing movement is going strength to strength in Sandalwood. If we take the response for Ajith Kumar's Commando, dubbed movie of Tamil film Vivegam into consideration, the market for the dubbed content is expected grow at an impressive rate and what might become a game changer is the simultaneous release of Kiccha Sudeep's Telugu movie Sye Raa Narasimha Reddy in Kannada.
Kiccha Sudeep plays an important role in Telugu movie Sye Raa Narasimha Reddy, which has Chiranjeevi in the lead role. Initially, it was announced that the film will be dubbed into Tamil, Hindi and Malayalam languages. With the dubbing market gaining foothold in Sandalwood, the makers seem to have now decided to release the film in Kannada.
The first look of Sudeep in Sye Raa Narasimha Reddy was released recently and fans demanded that the movie be dubbed in Kannada.
Kiccha Sudeep, like other stars, has never been vehemently against the dubbing culture. Hence, there is a chance of the Telugu movie being dubbed in Kannada.
It may be recalled that his fans were quite upset with him when his blockbuster Eega had failed to release in Kannada while it saw the light of the day in Tamil, Telugu, Malayalam and Hindi with ease.
Meanwhile, Vatal Nagaraj, pro-Kannada activist, has submitted a memorandum to Dr Jayamala against dubbing of non-Kannada movies in Kannada. It comes after Commando released big across Karnataka last week.
There has been an unofficial ban on dubbing in Kannada since the 1960s and it had the backing of the Karnataka Film Chamber of Commerce. The Competition Commission of India (CCI) took up the case a few years ago following the complaint filed by the Grahakara Okkuta. It had overturned the ban, calling it "illegal."
The CCI also slapped fines on the Karnataka Film Chamber of Commerce (KFCC), Karnataka Television Association (KTVA) and the Kannada Film Producers Association (KFPA) for preventing the release of dubbed films and television serials in Kannada.