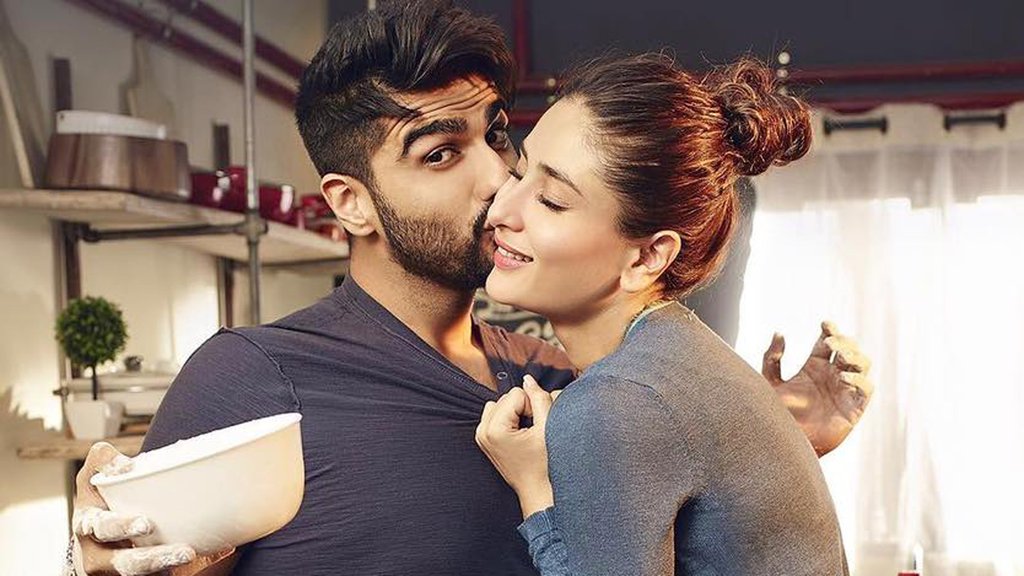 Director R Balki aka Balakrishnan's much-awaited Bollywood movie "Ki and Ka," starring Kareena Kapoor Khan and Arjun Kapoor, has received positive reviews from the audience across the globe.
Check: Ki and Ka Review | Celebs Review | On-set Photos | Trailer Launch Pics
"Ki and Ka" is a romantic comedy-drama film and R Balki has written the story and screenplay for the movie, besides directing and producing it. The film is about a young married couple, who break stereotypes and live life on their own terms.
"Ki and Ka" revolves around the story of a Kia (Kareena Kapoor), who focuses on her career, while her husband Kabir (Arjun Kapoor) is a homemaker. Both Kareena and Arjun have delivered superb performances and their sparkling chemistry is the main highlight of the movie, say the viewers.
"Ki and Ka" reportedly does not take much time to build up its basic plot and the director uses clichés to elicit chuckles. The movie starts off on a good pace, but loses its soul very soon. Some humorous scenes keep the viewers engaged in the first half, but the pace of the narration is slow in the second half. However, "Ki and Ka" is said to be engrossing with a good climax.
The movie has rich production values and Ilaiyaraaja, Mithoon and Meet Bros Anjjan's music, PC Sreeram's camera work are the attractions in the technical front. Overall, the film is a decent family entertainer, add the viewers. We bring some viewers' verdict on the film shared on Twitter. Here is the "Ki and Ka" movie review by audience:
Faridoon Shahryar ‏@iFaridoon
Balki's #KiAndKa is a progressive take on the man-woman relationship by breaking stereotypes n for most parts impresses with its uniqueness. Writing 4 most parts is bright,quirky n has a surprise value but #KiAndKa is a talk-heavy film that cud have done with more subtlety .. Performances are consistently exceptional n great casting esp of Swarup Sampat and Rajit Kapur. Balki's #KiAndKa is not a perfect film but it is progressive, entertaining, quirky, super performances n makes u think.Worth a watch for sure!!
Pallavi Patra ‏@Pallavi128
A laidback first half seems to be laced with predictable dialogues and meh camaraderie between its capable leads in #KiAndKa? Here's @arjunk26 as the most wanted munda in the block! #KiAndKa Though funny at times, this R Balki film lacks the punch it initially promised. #KiAndKa Second half introduces major family setbacks in plot: jealousy, insecurities and of course, unwanted pregnancy in #KiAndKa The camera positioning is too close at times. Music is average, except of course a couple of them. #KiAndKa Here's the best part of the movie so far: cameo by @SrBachchan and Jaya Bachchan in #KiAndKa
Roshan Goswami ‏@iRoshanGoswami 29m29 minutes ago
#KiAndKa Review: strong content, great comic timing, v.gud direction, amazing performances, superb music, nice cinematography & camera work. #KiAndKa Review: screenplay is quite crisp and sharp, 1st half is OK but 2nd half is quite interesting, overall it's a very well made film. #KiAndKa Review: @arjunk26 and #KareenaKapoor did tremendous performance. Overall I'll gave 4.0/5.0 stars to this film. A big THUMBSUP.
Smriti Singh ‏@RjSmritii
They look so awwdorable together @arjunk26 & #KareenaKapoorKhan The first half is filled with LOVE, Romance & a brave announcement #KiAndKa #KiAndKa .. absolutely perfect.. it gives dreamy yet achievable feelings.. men, the mindset, the outlook is what I desire! @arjunk26 Hatsoff Proud of U @arjunk26 Glad u agreed to do such a brave role! KAbir now resides in our hearts. Hope to get one in life Love You for #KiAndKa
Pooja Desai ‏@WebWaliPooja
#KiAndKa is bold and brilliant.A film that seems to be about gender politics but is so gender neutral.Raw and real @arjunk26 #KareenaKapoor
Fanzwood ‏@Fanzwood
#KareenaKapoor gives her best shot with the monologue, and it's the scene that stays with you. She's a powerhouse of acting! #KiAndKa #ArjunKapoor is truly a revelation with #KiAndKa His effortless acting makes him the boy-next-door and we've all been there done that. All-in all #KiAndKa is an honest movie about cliches in modern India. Made clearly for the multiplex audience in Tier 1 cities! Go for it!
Raviraj Singh ‏@mr_ravsa
Charismatic chemistry, superb acting and Cuteness of #KareenaKapoor.. that's #KiAndKa for you. Worth watching! @arjunk26
KRK ‏@kamaalrkhan
After watching full film #KiAndKa I can say tat it's a good film for urban audience of high end multiplexes so it will do good in big cities
Mrs Sidhant Gupta ‏@prissha16
@arjunk26 wow Baba,how impressive is that!! #KiAndKa is crazy... Watching it with family again...Seriously, you're girls most wanted munda
Priya Ranjan Pradhan ‏@priyara24333439
just watched.#KiAndKa MUSIC ,DIRECTION ARE AWESOME. BUT HATS OFF TO @arjunk26 FOR DOING SUCH UNCONVENTIONAL ROLES. @arjunk26 ROCKS...
FoolIshqDay~Monica♡∞ ‏@Luv_ArjunKapoor
@arjunk26 Every Dialogue is such quirky and funny... Unique ones I must say... It's all laughter in the theatre Feeling Proud #KiAndKa
Manish Singh ‏@ms83016
Now I am in Cinema hall and watching #KiAndKa What a performance given by @arjunk26 Unbelievable From Arjun Kapoor chopping vegetables to Kareena Kapoor playing her natural self, this movie has it all! Don't forget to watch #KiAndKa
Pooja Kashyap ‏@thePoojamishra
After #2states @arjunk26 's cutest movie is #kiAndKa ! Hope it breaks all d box office records !! All d best 2 entire team ! Don't be fool this #AprilFoolDay and must watch #kiAndKa ! Its worth watching ! Superb concept and terrific acting! @arjunk26 #kareena ! ❤
Spike Paul ‏@SpikePaul2
AMAZING MOVIE! #KiAndKa .Superb acting by @arjunk26 #KiAndKa ITs always a treat to watch @arjunk26 doing fabulous acting. #proudmoment for his lookalikes .This is how stardom goes.#happy #fans
Related
'Ki and Ka' review round-up: What critics have to say about Kareena-Arjun starrer
Leaked: Gauri Shinde reveals Ranveer Singh-Arjun Kapoor's 'Gunday 2' poster [PHOTOS]
Is this why Arjun Kapoor-Kareena Kapoor Khan's film 'Ki and Ka' will see limited release in certain areas?
'Ki and Ka' review by celebs: Alia Bhatt, Varun Dhawan, Ranveer Singh other stars laud Kareena Kapoor Khan and Arjun Kapoor's performance