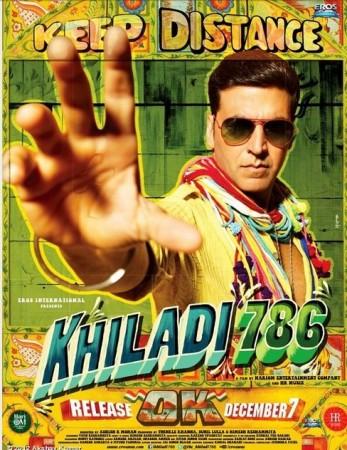 Bollywood action king Akshay Kumar is back with another film from the famed action-comedy "Khiladi" series after a gap of 12 years.
The actor will soon be seen in "Khiladi 786", which is directed by Ashish R Mohan and also stars Mithun Chakraborty, Asin, Paresh Rawal and Himesh Reshammiya in the lead roles.
The Khiladi series comprised of seven movies - "Khiladi" (1992), "Main Khiladi Tu Anari" (1993), "Sabse Bada Khiladi" (1995), "Khiladiyon Ka Khiladi" (1996), "Mr and Mrs Khiladi" (1997), "International Khiladi" (1999) and "Khiladi 420" (2000) - the actor is all set to reclaim his title of "Khiladi Kumar" with his much-awaited action masala film.
The official theatrical trailer of "Khiladi 786" was released on YouTube on Wednesday.
"Indian cinema's biggest franchise is back! That's right, #KhiladiReturns with #Khiladi786this December 7," Akshay tweeted.
"Naam Bahattar, Zilla Malkhanpur, Gaon Taasi, Sir pe haath Rab ka, Aur haath mein 786!! I'm back with #Khiladi786!" he wrote on his Twitter account.
The one minute, 14 second trailer featuring Akshay in an all-new tough avatar and without a moustache has received over 240, 000 views within 24 hours of its release.
"The Khiladi is back in "Khiladi 786"! The wait is officially over, the biggest franchise of Indian cinema is back on the silver screen," Eros Entertainment wrote on YouTube.
According to Akshay, the upcoming action masala movie, which is scheduled to hit theatres on Dec 7, will be his comeback film as the "Khiladi".
"I never thought that I will be doing one more 'Khiladi' film because for quite a few years action films were out of fashion. This is my eighth film in Khiladi series and almost after 12 years I am doing a khiladi film. So you call it my comeback as a Khiladi," Akshay told reporters at the trailer launch of the film.
"I feel great about it. It had never gone away from me, I always used to take risks and it's great because Khiladi is a word which means a player, a sportsman. You can connect it with anything, so it's great coming back to it," he added, according to Press Trust of India.