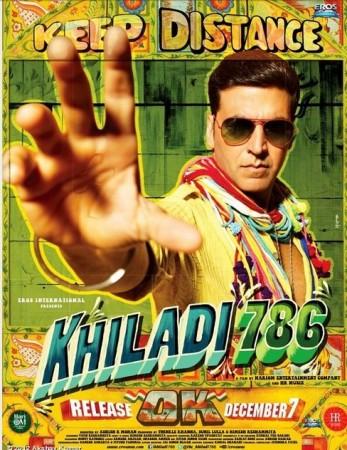 Bollywood action comedy "Khiladi 786" is doing quite well at the domestic box office. On the overseas front, the Ashish R Mohan-directed film turned out to be a big disappointment.
The movie, starring Akshay Kumar and Asin Thottumkal, opened with mixed reviews upon its release and was expected to bring down the business of Aamir Khan's "Talaash". But the movie failed to attract audiences, especially in international markets.
Despite Akshay's popularity, the film has performed badly in the UK, the US, Australia and New Zealand in its opening weekend.
The movie collected ₹90.73 lacs (£ 1, 04,156) from 79 screens in UK, ₹1.25 crores ($ 2, 28,967) from 114 screens in U.S.A., ₹38.45 lacs (A$ 67,523) from 24 screens in Australia, ₹9.62 lacs (NZ$ 21,240) from six screens in New Zealand and ₹10.74 lacs (FJD 34,969) from two screens in Fiji, according to trade analyst and film critic Taran Adarsh.
"Khiladi 786" was affected due to Aamir's "Talaash" which has topped the collection chart again.
Meanwhile, the domestic box office collections of "Khiladi 786" have increased gradually from its opening day. The movie raked in ₹10.40 crore on the opening day, ₹1.15 crore on Saturday and ₹12.75 crore on Sunday, taking the first weekend total to ₹34.30 crore.
"The North Indian territories, which generally yield good returns for an Akshay Kumar movie, didn't fetch the desired business," Adarsh said.
Despite strong promotions, the action comedy film failed to beat the first weekend collections of "Talaash' at both domestic and overseas box offices.
"Khiladi 786" marks the return of Akshay Kumar as "Khiladi" after 12 years. His last film in the Khiladi series was "Khiladi 420" released in 2000. He has starred in seven "Khiladi" series movies, out of which only four were successful.
Also Read:'Khiladi 786' Box Office Collection: Akshay Starrer Earns ₹44 Crore in 5 Days