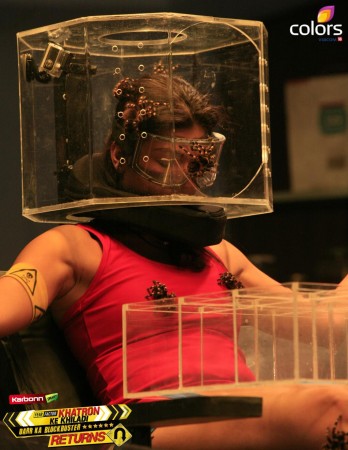 Popular TV host Archana Vijaya was eliminated from Colors' hit reality TV game show "Khatron Ke Khiladi 6 - Darr Ka Blockbuster Returns", hosted by Bollywood filmmaker Rohit Shetty.
Archana tried her best to tackle the stunts and overcome her fears in a four-week journey on "Khatron Ke Khiladi 6". In the seventh episode, she entered the danger zone with six other contestants: Ashish Chowdhry, Meiyang Chang, Iqbal Khan, Rashami Desai, Sana Khan and Asha Negi.
Ashish and Chang performed well in the first task in the eighth episode which saved them from the final elimination round. Sana and Asha got out of the danger zone with their brilliant performance in the second task of the day. Three contestants - Archana, Iqbal and Rashami - did not clear the danger zone rounds and were asked to face the third and last elimination task.
The third elimination task was the Face Pack task, where every contestant was made to sit on a chair and big spiders were released on their body. Iqbal and Rashami took 56 seconds and 46 seconds, respectively to finish the task. Archana took more time; and therefore, got eliminated from the game. She is the third contestant to be ousted from the show after Harshad Arora and Sidharth Bhardwaj.
Archana's elimination brought tears in the eyes of all other contestants. Even host Rohit Shetty was sad. He praised her saying: "You are leaving with much respect and aap mein bohat jiger hai."
Many viewers were also sad over Archana's elimination. Some of them took to Twitter to express their sadness and showered praises on her. Responding to their messages, Archana tweeted, "What a roller coaster ride !!!! Great while it lasted, thank you for all your love and support, means the world to me ! ❤️ Overwhelmed with all your love! Hard luck sometimes! It's all good!"
Here are some messages posted by Archana's fans on their Twitter pages after her elimination from "Khatron Ke Khiladi 6 - Darr Ka Blockbuster Returns":
Sharafat Ali @sharafatali569
I am very sad u eliminated from #Khatrokekhiladireturnes @archanavijaya very upset
RaginiKarishma @dikshadhabhai
@archanavijaya YOU SO MUCH DESERVED TO STAY YAR ! thats unfair !" Lots of love ! @archanavijaya we are with you, @kkkOnColors @ColorsTV bring her back ! She best!" All in the game!
Sharon Raina @sharonraina1
@archanavijaya you won many hearts!!!proud of u,excited to watch u in IPL" thank you ! Lots of love !
Soni LUV Mandy 4ever @Angel_sona12
@archanavijaya agree with @rohitshettyfilm u were leaving with much respect & aap mein bohat jiger hai Proud of you Girl"❤️
KarishmaWonHearts @sidramalik7661
@archanavijaya rely sad im crying that was tym its unfair "big hug