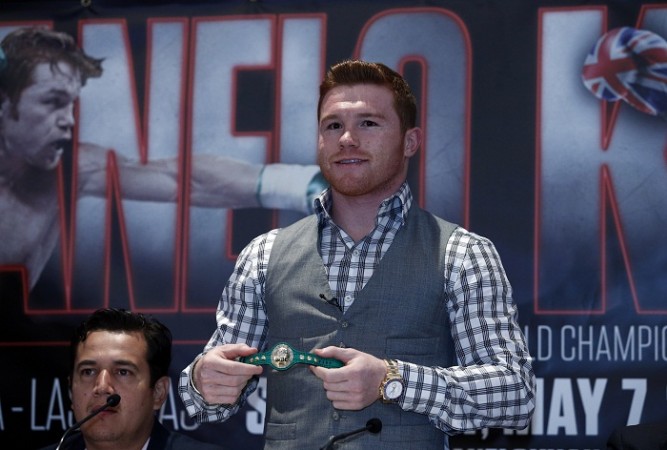 Two of the greatest boxers of the current generation -- Manny Pacquiao and Floyd Mayweather -- have retired from the sport, which is now searching for a new figure. Mayweather retired last year while Pacquaio bid goodbye to the sport just last week in front of a jam packed MGM Arena in Las Vegas.
There are a number of big names like Gennady Gennadyevich Golovkin, who could take the sport to new heights. But former boxer, Oscar De La Hoya, believes the WBC World Middleweight Title fight at the T-Mobile Arena in Las Vegas on May 7 between Amir Khan and Saul 'Canelo' Alvarez could determine 'the man in boxing'.
"Now that Pacquiao retired, Mayweather is retired, the winner of this fight becomes the man!" Box Nation quoted De La Hoya as saying.
"Whether Amir wins or whether Canelo wins, the winner is going to be the man in boxing for a very long time."
The fight has been billed as one of the biggest for 2016, with both boxers having established themselves as quality boxers, defeating their opponents with ease, most of the time. Khan has talked big in the past, stating Mayweather did not fight him because the American was afraid, but it is time to walk the walk, and prove his mettle against a stong boxer like Alvarez.
The Mexican is said to be the favourite to defeat Khan, who has gone up weight category to setup this date with Alvarez. This is definitely a bold move, and a courageous one from the British boxer, who expects the crowd at the T-Mobile Arena to cheer him on during the fight.
Even if he receives massive support in Las Vegas, Khan has to come out all guns blazing and use his speed and technique to counter Alvarez's strong punches. The Mexican is one of the most powerful boxers in the world at present, and has emerged victorious via knockout in 32 of his 46 wins. He has only suffered a single loss so far in his pro career.
What makes this fight between Khan and Alvarez special is that the boxers are at the peak of their game. Khan comes into the fight with five wins on the trot, while Alvarez has won four in succession.
"It doesn't happen often, including other sports, where just because you beat the man doesn't make you the man, but in this case here, you have two elite fighters, elite athletes, who are at the peak of their career, who are at the top of their game," De La Hoya said.