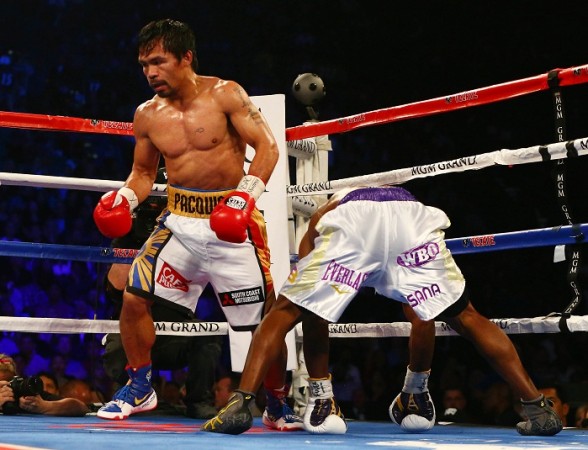 Manny Pacquaio came up with a brilliant performance against Timothy Bradley, defeating the American via unanimous decision Saturday at the MGM Grand Arena. Pacquiao showed his class and swiftness, scoring two knockdowns during the bout. It was a bout where Pacquiao looked in complete control for the most part.
With this huge win, Pacquiao, who had stated this fight would be his last, confirmed his decision. "Yes, I am retired. I want to go home to my family and serve the people. I love the fans and thank them for all the support they've given me," The Guardian quoted Pacquiao as saying.
The bout did not start in a grand manner as expected, with both the boxers being quite cautious at the start. The first two rounds of the bout did not witness much action as well. It was only in the third round that both boxers looked aggressive. Bradley missed a huge hook, but connected with the next and Paquaio used his quick movement and swift hands to score some points. The Filipino got into his groove in the fourth round as well.
However, it was the fifth round that lit up the gathered crowd in the venue, as both boxers threw in some huge punches and jabs, and the Filipino looked in complete control of the situation. The fifth and the seventh rounds were impressive from Pacquiao, who looked mighty aggressive despite good defence from the American.
The crowd at the MGM Grand Arena was cheering for Pacquiao, who is one of the most loved boxers on the planet. However, Bradley landed a massive right hand on Pacquiao during the eight round, which must have shaken the Filipino, but he came out aggressively in the next, and floored Bradley, who got up nevertheless.
Pacquiao, with some good fight in the first nine rounds, had the bout in his bag, and only had to avoid a knockout from the American, which he managed quite well, to win his farewell bout.
Pacquiao's glorious career has come to an end with an impressive win.