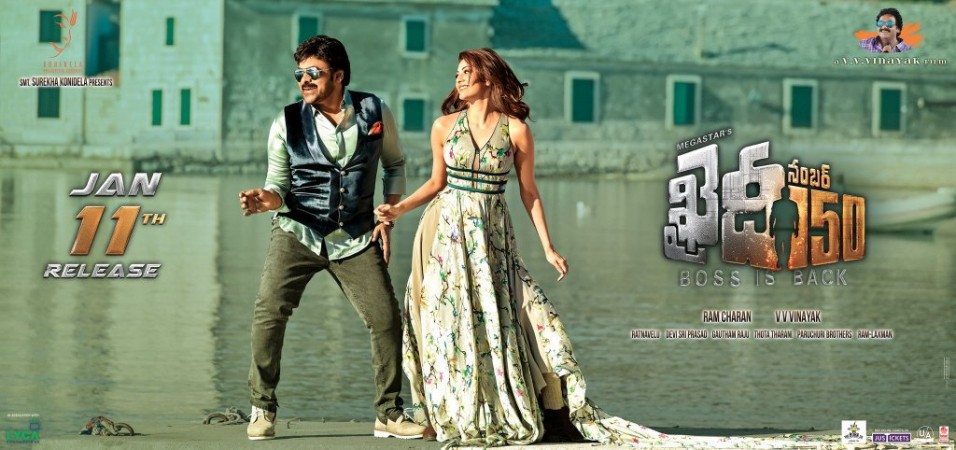 Khaidi No 150 movie review:

Rating
3.5/5
Director
VV Vinayak
Producer
Ram Charan
Cast
Chiranjeevi, Kajal Aggarwal, Tarun Arora, Brahmanandam, Posani Krishna Murali, Ali, Raai Laxmi Rai and others.
Music
Devi Sri Prasad
Cinematography
R Rathnavelu
Release date
11 January 2017
Runtime
2.27 hours
Megastar Chiranjeevi's much talked about movie Khaidi No 150, which hit the screens on January 11, lives up to the expectations that it created before release. It is paisa vasool entertainer for mega fans.
Story/Plot:
Kathiresan (Chiranjeevi) is a petty criminal, who escapes from a jail in Kolkata. While he is fleeing to Singapore, he sees his lookalike Shankar (Chiranjeevi) being attacked by some goons. Kathir takes Shankar to a hospital and decides to impersonate him to save himself from police. However, Shankar is a post graduate in Hydrology and is fighting for the farmers of his village. After learning about him, he himself heads to get into the fight. How he gets justice for the formers forms the crux of the story.
Analysis:
Khaidi No 150 is an adaptation of Tamil film Kaththi, which was a huge hit due to its interesting story with a social message. Director VV Vinayak, who has also worked on the screenplay, has added some commercial ingredients to the film to suit the taste of Telugu filmgoers. Besides good concept, the movie has all the mass elements like action, romance, dance, comedy, drama, sentiments and music.
Nothing much happens in terms of story in the first 30 minutes of the film and it gets serious and emotional towards the end of the first half of the movie. Some comedy, romance, action and couple of trendy songs keep the fans engaged in this portion. The second half of the film is also entertaining and engaging. The climax is also good, but it is predictable.
Performances:
Khaidi No 150 is a perfect comeback for Chiranjeevi, who had taken a break from acting for nine years. The megastar, who has put on weight after his political entry, has undergone a physical transformation and looks young. He has delivered a sterling performance and has shown a lot of energy in action, dance and dialogue diction even at this age. The film is his show all the way.
Kajal has nothing much to offer in terms of acting, but impresses viewers with her glamour. Ali, Brahmanandam and Rabhu Babu's comedy is among the highlights of the movie. Raai Laxmi rocks the show with her item dance. Other supporting artistes have also done justice to their roles. Ram Charan and VV Vinayak's brief cameos are big surprises for the fans.
Technical:
Ram Charan, who has debuted as a producer with this film, has made sure that Khaidi No 150 has brilliant production values. Devi Sri Prasad's background score is big attraction on technical front. His songs are good, but couple of them come as speed breakers for the narration. But the beautiful picturisation, costumes, art direction and locales make the soundtracks visual treats.
The choreography of action and dance sequences is brilliant and it is a treat to watch Chiranjeevi dazzle the screens. Sai Madhav Burra's punch dialogues and Gowtham Raju's brilliant editing are other attractions on the technical front.
Verdict:
Overall, Khaidi No 150 is a paisa vasool entertainer and a perfect movie to mark the comeback of Chiranjeevi. The movie is not only a treat for the fans of mega family, but also for mass audience. The movie is a perfect entertainer for this Sankranti. Don't miss to watch it this weekend.