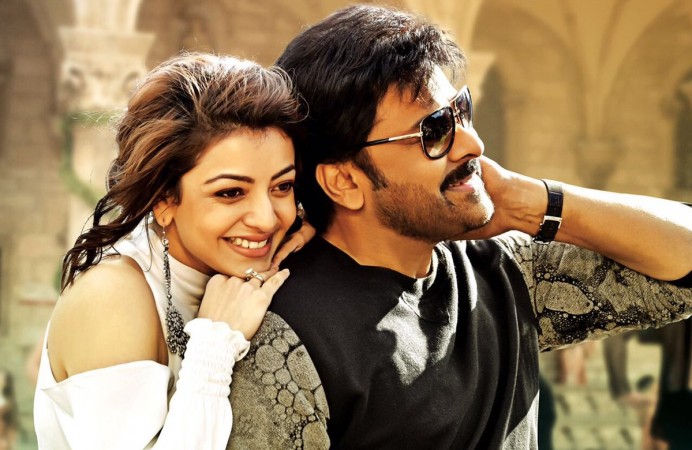 Chiranjeevi's Khaidi No 150 has made brilliant collection at the worldwide box office in the first weekend. Its five-day total collection has inched closer to the mark of Rs 100 crore gross in the global market.
Following the huge hype, Khaidi No 150 had a wide-release on Wednesday. The movie opened to an overwhelming response and collected Rs 50.45 crore gross at the worldwide box office on the first day. The film became the second all time biggest Tollywood opener in the global market, after Baahubali.
The VV Vinayak-directed action thriller received positive response from the audience and the word of mouth was expected to keep the ticket counters busy on Thursday as well. But Khaidi No 150 clashed with another new release, Gautamiputra Satakarani, and its collections plummeted on the second day. However, the film picked up a little momentum on Friday.
Despite clashing with yet another release Shatamanam Bhavati, the Chiranjeevi and Kajal Aggarwall starrer witnessed further growth in its collection on Saturday and Sunday. Khaidi No 150 has collected approximately Rs 63 crore gross in Andhra Pradesh and Telangana, Rs 12 crore gross in Karnataka, Rs 14.30 crore gross in the US, Rs 6 crore gross from elsewhere in the five-day extended first weekend.
Khaidi No 150 is estimated to have collected approximately Rs 98.80 crore gross at the worldwide box office in the five-day extended first weekend. The movie is estimated to have earned Rs 71 crore for its global distributors, who have spent Rs 89 crore for the theatre rights. The film has recovered around 70 percent of the investments for the distributors in four days.
Here are the details of price of the distribution rights and the earnings of Khaidi No 150 in various areas around the world. All the figures are in Rs crore. These are ballpark figures.
| | | | | |
| --- | --- | --- | --- | --- |
| Area | Distributor | Rights Price | Earnings | Recovery (%) |
| Nizam | Asian/Geetha | 23.00 | 13.22 | 57.47 |
| Ceeded | Rayudu | 11.70 | 8.58 | 73.33 |
| Vizag | AV Cinemas | 7.80 | 7.50 | 96.15 |
| G East | Anushri Films | 5.40 | 5.32 | 98.51 |
| G West | Shanmukh Films | 4.60 | 4.19 | 91.08 |
| Krishna | G3 Movies | 4.60 | 3.34 | 72.60 |
| Guntur | V Celluloids | 6.40 | 4.67 | 72.96 |
| Nellore | S2 Cinemas | 3.00 | 2.04 | 68.00 |
| AP/T Total | ---- | 66.50 | 48.86 | 73.47 |
| Karnataka | Brunda Associates | 8.50 | 7.01 | 82.47 |
| Rest of India | Various | 2.00 | 1.10 | 55.00 |
| Overseas | Classics Entertainment | 12.00 | 11.63 | 96.91 |
| Global Total | ----- | 89.00 | 68.60 | 77.07 |