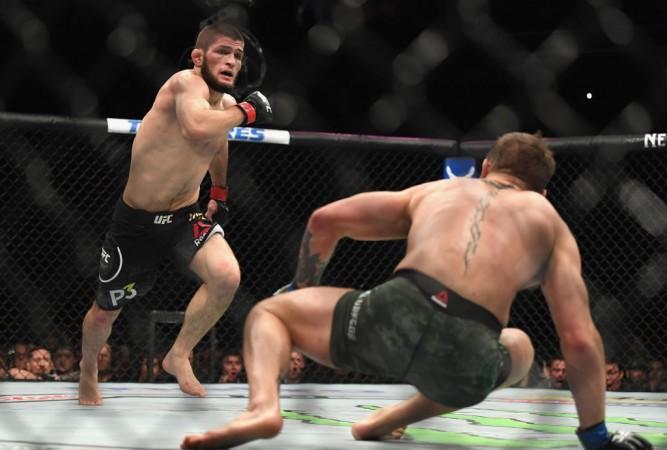 Khabib Nurmagomedov has been passionately stirring up the world of wrestling off late with his activities inside and outside the octagon. The UFC lightweight fighter has now teased moving to the WWE and taunted Brock Lesnar on the back of his controversy following UFC 229.
Khabib squared off against Conor McGregor on Saturday night at the T-Mobile Arena in Las Vegas, Nevada but the real tussle ensued after the fight when Khabib jumped outside the octagon to attack McGregor's training partner, Dillon Dannis.
This was followed by members of Khabib's entourage storming into the octagon to attack McGregor who had lost the bout in the fourth round.
The aftermath of this incident has landed Khabib and his team in trouble with not only the UFC but also the Nevada State Athletic Commission (NASC) with the latter slated to suspend him – and McGregor – for 10 days from 15th October. This suspension could be extended to an indefinite period on October 24, pending a full investigation.
Meanwhile UFC President Dana White refused to hand over the championship belt to Khabib, later revealing to the media that he told the Dagestani, "You're going to be lucky if you're not going to be arrested."
To this Khabib replied, "If I'm going to be arrested I want to do it with my belt on."

Commenting on Khabib's team that jumped the cage to attack McGregor, White said to the media, "What I heard was three of his [Khabib] guys were arrested." The three people that were arrested were later released by the police because Conor McGregor refused to press charges.
White, though, has decided to strictly come down on the alleged perpetrators telling the media, "If they [those arrested] are guys under contract with the UFC, they will not fight."
This means Khabib's teammates Zubaira Tukhugov and Islam Makhachev will never fight in the UFC again after it was revealed they attacked Conor McGregor. UFC officials confirmed that Tukhugov has already been pulled from his Lobov later this month.
Not taking kindly to the turn of events, Khabib took to Instagram to spell out his dissent threatening to quit UFC if his "brother" is punished while calling out UFC for not acting upon insults against his homeland, religion, nation and family.
Following this threat, Khabib took to Twitter to tease a potential move to WWE. In his post, he asked whether he should be switching to WWE while using a hashtag that hints that he would smash Brock Lesnar.
If Khabib does make the move, he will be following the footsteps of fellow fighters Brock Lesnar, Ronda Rousey and Bobby Lashley who have successfully made the switch.
Khabib's UFC 229 fight against McGregor broke viewership records by reaching an unprecedented 2.4 million views. Khabib will bring immense mainstream attention to the brand and the move, if it indeed happens, will make tremendous business sense for the WWE who are suffering from poor ratings recently. Any punishment meted out by the NASC will not stop Khabib from wrestling inside the squared circle of the WWE either.
Fans on Twitter have already taken a liking to this tease urging the Eagle of Dagestan to make the move.