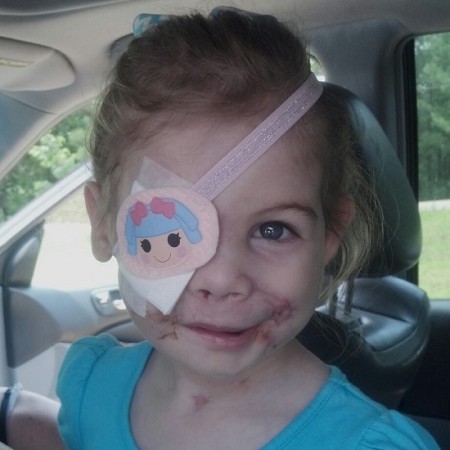 It was a story that touched millions across the country, and many generous donors offered to fund the three-year-old's medical expenses.
Last week reports stated that 3-year-old Victoria Wilcher in Jackson, Mississippi, who was disfigured in a pit bull attack in April, was asked to leave by the employees of Kentucky Fried Chicken (KFC) as they thought her scars were disturbing other customers.
Victoria, accompanied by her grandmother Kelly Mullins, had decided to stop by at a KFC outlet on the way home, following a visit to the doctor.
After ordering a large sweet tea and some mashed potatoes and gravy for Victoria, the two were waiting for their food when an employee made the duo to leave, it was alleged.
The story was heartwrenching and, amidst an uproar, KFC issued an apology and promised to donate a handsome sum for the medical expenses of the young child.
But it seems many people might have been fooled to believe a lie.
It is reported that KFC had taken up two investigations, including one by an independent investigator.
CNN, based on an email statement from KFC, reported that neither of the investigations offered any proof that the alleged scenario - so widely reported on social media and news outlets - actually took place.
Adding to the news that the incident could have been a hoax, Victoria's Facebook page, which was instrumental is spreading the child's story, was pulled down on Tuesday.
"I promise its not a hoax, I never thought any of this would blow up the way it has... Please do not believe untrue media. I have personally watched this family go without to provide for Victoria. They have not and would not do anything to hurt Victoria in any way," a post on the page stated moments before it was taken down.
It is reported that in April, while visiting with her grandfather, Victoria was attacked by three pit bulls.
The attack left the three-year-old with a broken jaw, nose, cheekbones and right eye socket. The kid also lost her right eye completely and the ability to move the right side of her face.
However, none of these claims could now be verified, till the child's family comes out with their statement.
Many on Twitter also expressed their shock over claims that the incident was a hoax:
bizarre story of the week. "Little Girl Getting Kicked Out of KFC Was Reportedly a Huge Hoax" http://t.co/DinkNLtZHB

— Surekha Pillai (@surekhapillai) June 24, 2014
Report: Story of girl getting tossed from KFC hoax RT @AsiaChloeBrown: Wow, this is going to get so ugly. http://t.co/adokQp99Rx

— Reasonable White Man (@BlackGirlDanger) June 24, 2014
Let's remember this little girl isn't responsible for adult lies. Report: Story of girl getting tossed from KFC hoax http://t.co/xu6Q6oFPm3

— Meaghan McDermott (@meagmc) June 24, 2014