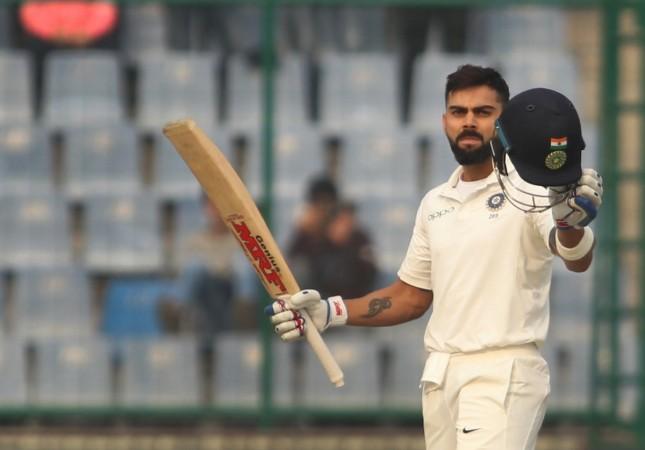 Today, December 2 was indeed a "Super Saturday" for cricket fans as two of the best modern day batsmen were in action, simultaneously. While Virat Kohli was taming an insipid Sri Lankan attack on the opening day of the third Test in Delhi, Steve Smith showed his class under the night sky in Adelaide during Day 1 of the second Ashes Test.
As it turned out, England star Kevin Pietersen seemed to have been impressed more by Kohli's efforts as he took to Twitter to call him the 'greatest of his generation'.
The greatest batsman of his generation. He is on a different level to any current batsmen - @imVkohli!

— KP (@KP24) December 2, 2017
The Indian captain brought up his 20th Test century and also the third successive ton in the three-match series against Sri Lanka. Kohi also became the fourth fastest Indian to reach 5,000 runs in the longer format of the game.
Pietersen's remark though did not go down well with some of the Australian fans on the social media platform, who argued Smith was better than Kohli.
One of them even predicted that England batsman will receive a lot of flak from Australian fans, given the heated rivalry between England and Australia on and off the field in the ongoing Ashes season.
That's horseshit and you know it champ - just fishing for a reaction. You are currently watching the world's best bat live in Adelaide.

— SWD (@swdoyle1981) December 2, 2017
He's versing Sri Lanka on an Indian pitch. Calm down KP. Steve Smith's better than Virat anyway

— Thomas Stewart (@tstewcav26) December 2, 2017
Love the bait thrown out re Smith who is clearly in career best form. Bet you're loving the thought of the heat you're Guna get from Aussie followers...

— damien (@damiendjones) December 2, 2017
Please mate @stevesmith49 has him covered. @imVkohli hasn't played a test outside of India in 2 years!

— Stefan Krumov (@Stefan_Krumov) December 2, 2017
Smith is better. Ratings, stats and hundreds. Plus he doesn't play 20 tests at home a year.

— Ryan Worthing (@WorthoRyan) December 2, 2017
Even smith? I have to question that

— Sam Gregory (@screg17) December 2, 2017
Um no. Steve Smith is a level above

— Chris Anderson (@chris_ando91) December 2, 2017
Even Steve Smith, KP?

— Michael Randall (@MickRandallHS) December 2, 2017
Pietersen's remark comes after an array of Australian legends, including Ricky Ponting and Steve Waugh, heaped praise on Smith following his match-winning 141 not out in the first Ashes Test in Brisbane last month.
While Ponting called him "the No. 1 batsman in the world", Waugh likened Smith's hunger to that of Sachin Tendulkar and said the Australian captain will "rewrite history books".
Notably, Smith, who started as a leg-spinner, has gone on to become one of the most consistent batsmen in the modern era.
With 5,511 runs at an average of 61.23 in Tests, the Australian skipper is well ahead of Kohli, who has managed 4,975 runs at 51.82 (before the start of Delhi Test).
However, Kohli dominates limited-over cricket as his averages both in ODIs and T20Is are above 50 whereas Smith is 43.23 in ODIs and a meagre 21.55 in T20Is. Also, the Indian captain has hit 32 tons, 24 more than his Australian counterpart in limited-overs.