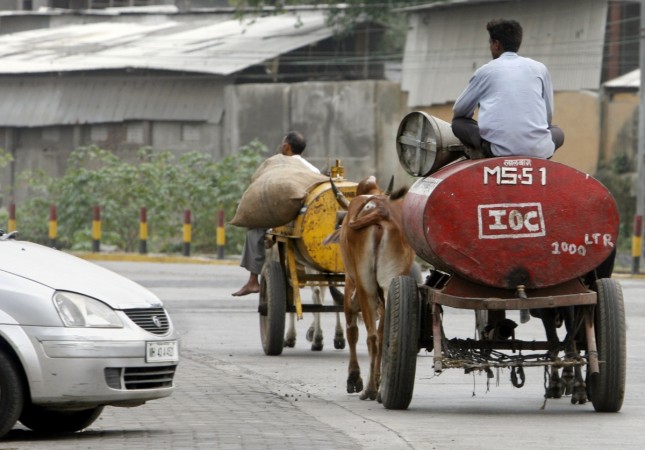 Shares of Oil & Natural Gas Corporation (ONGC) and Oil India Ltd flared on the BSE on Monday in response to the buzz that the government may eventually deregulate kerosene prices on the lines of diesel and cooking gas.
ONGC shares were up 4.23 percent at Rs. 233.85 apiece, while Oil India was trading with gains of 3.34 percent at Rs. 374.20 on the BSE at around 1.40 p.m.
The government hiked kerosene prices by 50 paise per litre last week after almost five years. The under-recovery in case of kerosene for July will be Rs. 13.12 per litre, up from Rs. 11.73 in June, according to a government statement.
The likely deregulation of the commodity is being seen as a positive for ONGC and other state-run oil firms.
"We believe the government may do a deregulation in kerosene prices also after diesel deregulation. The rise in kerosene prices by the government may be marginal but all these steps are positive for upstream firms and oil marketing companies", brokerage Motilal Oswal said in a note on July 1, as reported by the Mint.
"We view this as a directionally positive step as it's indicative of the governments desire to reduce kerosene subsidy," the brokerage further said.
ONGC and Oil India are classified as upstream oil companies.
The news also saw shares of state-run oil marketing companies such as Indian Oil Corporation (IOC), Bharat Petroleum Corporation Ltd. (BPCL) and Hindustan Petroleum Corporation Ltd. (HPCL) rise, though not as high as those of ONGC.
IOC shares were up 1.27 percent, while BPCL and HPCL shares were each trading with gains of 1.42 percent.
The rise in global crude oil prices and the consequent periodical increases in domestic diesel and petrol prices were also seen as contributing to the bullish sentiments on these stocks.
"...the way petrol and diesel price changes are happening, I think that is giving a lot of confidence. So these stocks will now keep moving up in comparison to overall market PE, in comparison to overall portfolio weightage because of their own weightage," Amisha Vora, Joint MD at brokerage firm Prabhudas Lilladher, told ET Now.
BPCL shares hit a fresh 52-week high of Rs. 1,110.60 on Monday and were trading at Rs. 1,105.60, up 1.25 percent on the BSE at around 1.51 p.m.
In a note in May this year, HDFC Securities projected improved prospects for state-run BPCL due to improved gross refining margin (GRM), lower interest burden and higher sales of petroleum products.
The company's GRM rose from $3.6 per barrel in 2014-15 to $6.6 in 2015-16. However, HDFC Securities also said that GRM could fall in the coming months. "Low crude prices have led to a robust demand in end products. However, we believe refining margins have peaked and a sequential decline may start soon," it said in a research note.