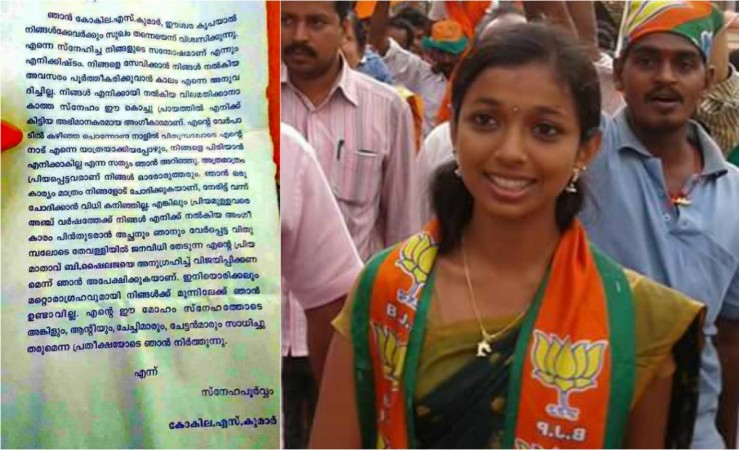 Though canvassing for a candidate during elections is usual, people in Thevally ward in Kollam, Kerala, witnessed a strange campaign during the by-election that took place on Wednesday, January 4.
The by-election for the ward was called after BJP's Kokila S Kumar, who was the youngest councillor, was killed in a hit and run accident in September 2016. Following the untimely demise of Kokila, BJP had chosen her mother B Shailaja to contest for the post. A day before the election, an unusual letter, "written" by dead Kokila, requesting the electors to vote for her mother was distributed in the locality.
"I am Kokila S Kumar. I believe all are keeping well with the grace of God. My fate didn't allow me to serve you for five years. I am proud to have received overwhelming love at an young age. You bid me farewell with a heavy heart on Thiruvonam day and that's when I realised that I cannot leave each one of you, who are special to me [translated from Malayalam]," reads the letter.
"Though I cannot ask this personally, I am requesting each one of you to support my mother, who is contesting the elections despite the loss of me and my father. This is my only request and I will never again come to you with more wishes. I hope all the uncles, aunties, brothers and sisters will help to fulfill my wish," the letter ends.
When asked about the letter, Shailaja, who has been working for the party for the last 25 years, told The Newsminute: "I have done this for my party. I do not find anything wrong with it. My own daughter is seeking votes for me. What's wrong in that? She was my daughter. This is my right. No one can raise an objection."
While the letter impressed a few voters, others called it a "cheap tactic" used by BJP in the name of a dead person to get back the seat. Nevertheless, the letter has gone viral on social media and Shailaja won the election by a margin of 400 votes after the by-election results were announced on January 5.
Kokila, who won the election in November 2015, passed away after she met with an accident on September 13, when she was returning home after Onam celebrations with her father. Thus, the 23-year-old could serve the office only for 10 months. Her father Sunil Kumar, 50, also succumbed to injuries at a private hospital a day after.
Here is the viral letter "written" by Kokila: