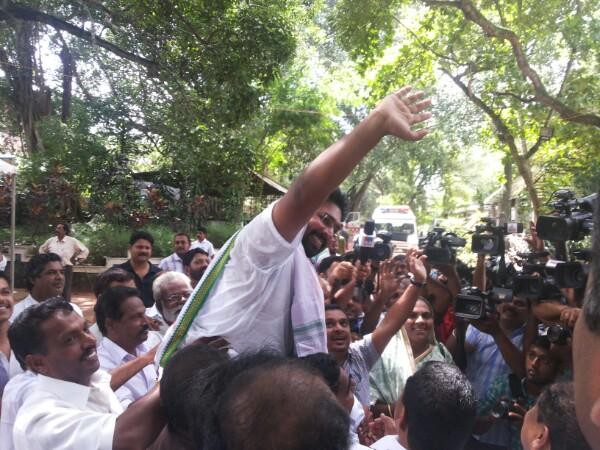 Notwithstanding the bar controversy, solar scam and other corruption issues, the United Democratic Front (UDF) won the Aruvikkara by-elections with a margin of 10,128 votes.
UDF candidate KS Sabarinathan won the highly-charged Aruvikkara contest against LDF's M Vijayakumar and BJP's O Rajagopal.
While the UDF candidate won 56,448 votes, LDF and BJP candidates got 46,320 and 34,145 votes, respectively.
കെ.എസ്. ശബരീനാഥന് തകർപ്പൻ വി‍ജയം,10,128 വോട്ടിന്റെ ഭൂരിപക്ഷം http://t.co/zyCOiqtW2A pic.twitter.com/6aaEilSlRW

— Kaumudi News (@KaumudyNews) June 30, 2015
Since the counting began on Tuesday, Sabarinathan was leading with a good margin.
However, many LDF and BJP supporters claim that the Oommen Chandy-led government won the contest because of the sympathy votes they got from the followers of late Assembly speaker G Karthikeyan, father of Sabarinathan.
Sabarinathan also admitted that the victory is due to his father's popularity in the constituency. "I am sure people want to see more developments that my father began in Aruvikkara, it is his popularity why they casted their votes for UDF," Karthikeyan's son said on winning the election.
ജി.കാർത്തികേയന്റെ മകൻ എന്ന സ്നേഹവും, വോട്ടും നൽകി വിജയിപ്പിച്ച, അരുവികര മണ്ഡലത്തിലെ ജനങ്ങൾക്കും, വിജയത്തിനായി കഠിനാധ്വാനം ചെയ്ത പ്രവർത്തകർക്കും, നേതാക്കൾക്കും, ഹൃദയത്തിന്റെ ഭാഷയിൽ നന്ദി രേഖപ്പെടുത്തുന്നു...!!

Posted by Sabarinadhan KS on Tuesday, 30 June 2015
The by-election was a crucial one for the UDF government as the people were given a chance to evaluate the activities of the party since 2011.
അരുവിക്കര നിയോജക മണ്ഡലത്തിൽ ജനങ്ങളുടെ പ്രതീക്ഷക്കൊത്ത് പ്രവർത്തിക്കാൻ ശബരിനാഥനു കഴിയുമെന്ന ജനങ്ങളുടെ വിശ്വാസമാണ് അദ്ദേഹത...

Posted by Oommen Chandy on Tuesday, 30 June 2015
Meanwhile, LDF's strikes and hate speeches might be the reasons behind its loss in the by-election, even in the booths that had strong LDF support earlier. The communist party could only lead in Aruvikkara panchayat, when UDF made a mark in all other panchayats.
It has to be noted that despite the slide in Narendra Modi-led government's popularity in recent times, BJP candidate Rajagopal received 34,145 votes.
However, netizens have been attacking the voters for supporting the UDF despite the allegations of corruption.
Check out the viral memes below:
#Premam effect in #Aruvikkara ...UDF reactions captured...In Kerala, u can be corrupt with impunity I guess... pic.twitter.com/YW6vOTxPPj — Tom Babu (@Tom_Babu) June 30, 2015
#Aruvikkara pic.twitter.com/PCasVjMRXX

— Akhila Raveendran (@Iam_Akhila) June 30, 2015
#Aruvikkara people seem to say "എന്നെ തല്ലണ്ടമ്മാവാ ഞാന്‍ നന്നാവൂല്ല" :) pic.twitter.com/cPZTRuKOC8 — Sree Devi (@sreedevipv7) June 30, 2015
തോറ്റാലെന്താ രാജേട്ടന് മൂന്നാം സ്ഥാനം കിട്ടിയില്ലേ, ഹെന്റെ രാജേട്ടാ #Aruvikkara @Raj_Kwt pic.twitter.com/7xwDYk7Ep4

— ICUnion (@ChaluUnion) June 30, 2015
#പുച്ഛം #Aruvikkara pic.twitter.com/J7R1uujiMu — Visakh (@vvk4050) June 30, 2015
#Aruvikkara pic.twitter.com/lmghmAgxeF

— Visakh (@vvk4050) June 30, 2015