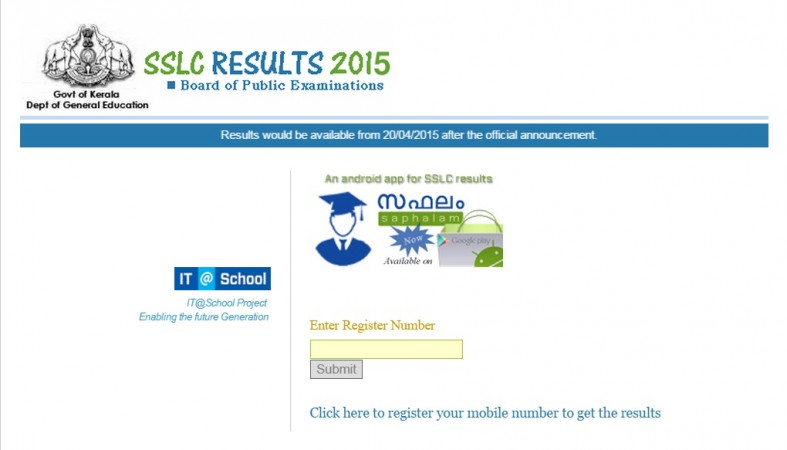 After many controversies, Kerala Secondory School Leaving Certificate (SSLC 2015) results have been republished again on Sunday, 26 April.
In the updated version of the SSLC result, the South Indian state has witnessed a record pass percentage of 98.56, which is 0.57% higher than the results published earlier.
Grace marks have been added in the updated SSLC result published on Sunday.
Latest reports suggest that more than 2,700 students have secured A+ in all subjects and out of 4, 68, 466 students who appeared for the SSLC examination, 4, 61, 542 have passed the board exam.
The 6,924 students, who could not pass for the SSLC exam can apply for revaluation and Save a Year (SAY) exam soon.
Kerala SSLC 2015 Results: SAY Exam, Revaluation, Plus One Allotment Details [VIDEO]
Earlier, on Monday, 20 April, Education Minister PK Abdu Rabb had announced the SSLC 2015 examination results with 97.99 record pass percentage.
Following this, some had claimed that the record pass percentage is just the government's attempt to prove the state's education system is the best, while others raised complaints regarding the accuracy of the grades.
Inaccuracy, Errors in SSLC 2015 Grading System Stir up Controversies
However, the Education Minister has reportedly said that the errors in the initial results published were due to issues related to software.
Students can check their SSLC 2015 grades on the following websites:
Keralaresults.nic, prd.kerala, prd.kerala website, Kerala Pareeksha Bhavan.

Students can also find the results by contacting the numbers below:
0471 2335523 or 0471 2115054 or 0471 2335523 or 0471 2115098