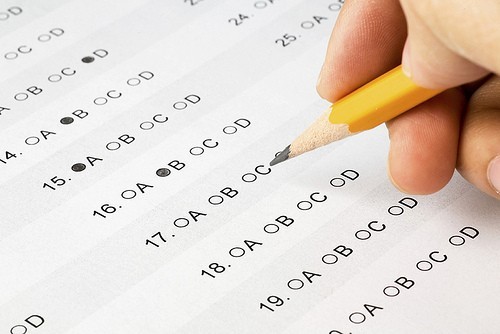 Kerala witnessed a record pass percentage of 97.99 for the Secondary School Leaving Certificate (SSLC) exam, results of which was declared on Monday, 20 April, by Education minister PK Abdu Rabb in Thiruvanathapuram.
However, like previous years, the SSLC results stirred up controversies. Some claim that the record pass percentage is just the government's attempt to prove the state's education system is the best, while others have raised complaints regarding the accuracy of the grades.
Kerala SSLC 2015 Results: SAY Exam, Revaluation, Plus One Allotment Details [VIDEO]
This year, the valuation and tabulation of the exam completed at a record pace - within 18 days - and there seems to be so many errors in the results published online.
Latest reports suggest that many students didn't get their Physics, Chemistry, Malayalam, Social Studies marks; in place of the marks it was mentioned that the result will be announced later. Many in Alappuzha have also reportedly complained about their Mathematics grade.
Pareeksha Bhavan Secretary MI Sukumaran reportedly said that the errors will be resolved soon and it might have occurred while uploading them online.
Social Media Memes Go Viral After Announcing Kerala SSLC Results
Many have cited that the valuation instructions given by the education board as one of the reasons why teachers gave extra marks to the students.
It was earlier reported if a student secures extra marks after revaluation, the teachers who valuated the papers may be fined.
However, experts have criticised the state's increase in pass percentage to 97.99% in 2015 from 58.48% in 2005. Since 2008, the win percentage has never gone below 90%, and infact increased each year to 93.64% in 2012 and to 94.17% in 2013.
SSLC 2015 Results Announced; Kerala Reports Record Pass Percentage of 97.99
The pass mark for each paper is just 15 and it is easy for the students to secure this score as they will get at least 7-10 marks from internal assesment.
Even Congress minister Hibi Eden has criticised the educational system of the state, which does not help the students to compete with others. He also added that giving grace marks for extra curricular activities and half marks for attempting the questions should be avoided.
ഇത്തവണത്തെ എസ്. എസ്. എല്‍. സി. പരീക്ഷയില്‍ വിജയം നേടിയ എല്ലാ വിദ്യാര്‍ഥികളെയും ഞാന്‍ അനുമോദിക്കുന്നു. എന്നാല്‍ നമ്മുടെ ഈ...

Posted by Hibi Eden on Tuesday, 21 April 2015