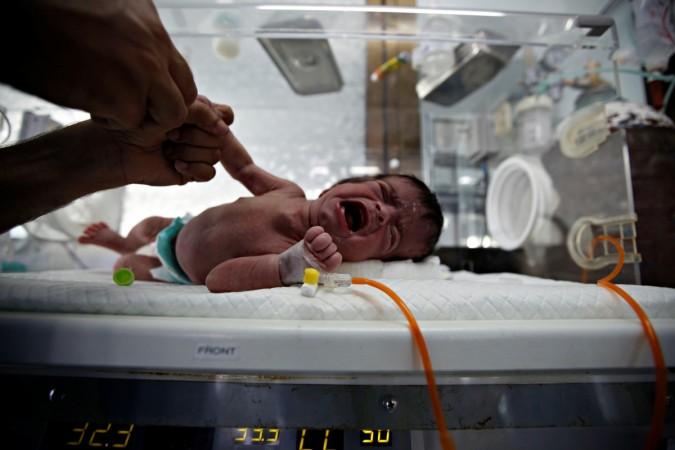 Getting famous seems to be an easy task these days with people doing weird things every now and then. A Muslim man in Kerala has now made headlines after he denied breastfeeding to his newborn baby until five calls for prayer from the nearby mosque are heard.
The incident took place at EMS Co-operative Hospital in Mukkam, Kozhikode, where the baby's father Aboobacker prevented his wife Hafsath, 24, from feeding the baby based on their religious beliefs.
Even though the doctors and police officers attempted to convince the parents on the ill effects of not feeding the baby with breast milk, they denied saying that a Muslim preacher had advised them to do so. He also claimed that their first baby, a boy who is now two and a half-year-old, was also fed for the first time only after hearing the five prayer calls, which happened 23 hours after his birth.
When the parents claimed to take the complete responsibility of the kid if he passes away, Mukkam Sub Inspector Salim, who is also a Muslim, warned they will register a case against them. After the attempts to convince the parents went in vain, it is understood that Aboobacker left the hospital with his family at around 7.30 pm seeking forceful discharge.
"Breastfeeding the babies immediately after their birth is essential as it is very important for their health. If they are not fed for 24 hours, it can even lead to their death because of dehydration and can also be a reason for epilepsy. This baby's father claimed that they will not feed the baby orally before hearing five prayer calls and was not even allowing us to inject glucose. I want the government to take necessary steps against this even if it is any religious practice [translated from Malayalam]," the doctor, who treated the baby, told Reporter TV.
However, the incident has become a hot topic of discussion online with netizens attacking the parents who blindly believes the words of the preacher, who is said to have given false information. Now, social media pages have been flooded with memes on the topic.
Check out a few memes on the incident that are doing the rounds on social media:
A scene from a house in Kerala in future
Jayasurya as father: Daughter, please give some water.
Srinda as daughter: Father, three more prayer calls are left
Sharafudheen as baby: Can you give me little milk?
Actress as father: After prayer call
Baby: It's over, give me milk now
Father: After five prayer calls
Baby: Can you give me some water? Can I at least swallow my saliva?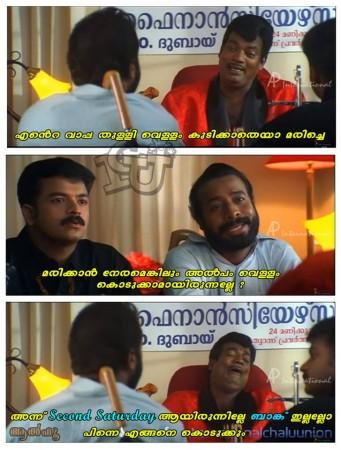 Salim Kumar: My father passed away without even getting a drop of water.
Harishree Ashokan: You could have given water at that time.
Salim Kumar: How will I give? It was a second Saturday and bank holiday.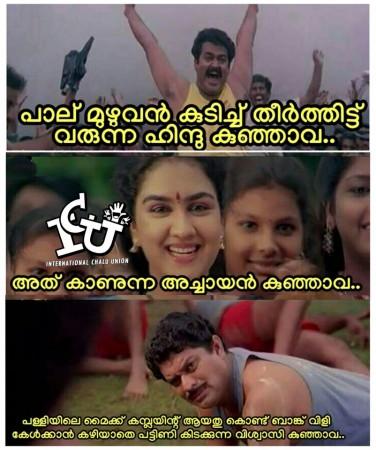 Mohanlal as a Hindu baby after drinking the whole milk
Urvashi as a happy Christian baby seeing this
Jagathy as a Muslim baby who cannot hear the prayer call as the mike in the mosque is not working.