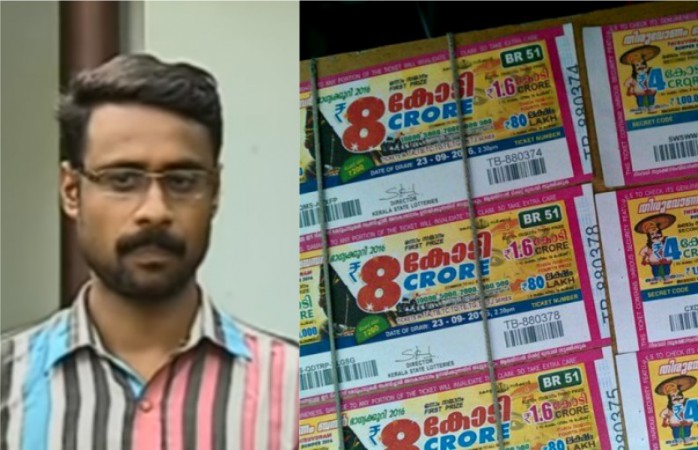 Over a week after the results of Kerala Thiruvonam (Onam) Bumper lottery were announced, Ganesh, who hails from Palakkad has claimed to be the owner of the first prize winning lottery on Sunday, October 2.
The lucky person, who works at an automobile shop in Thrissur since 10 years, had bought the lottery numbered TC788368 that won Rs 8 crore from a vendor Santhosh sold by Johnson and Johnson ticket agency on his way home for Onam vacation. However, he couldn't check the lottery after the results were revealed as he had left it at home in Cheramangalam.
According to latest reports, the jackpot winner, has handed over the lottery ticket to State Bank of Travancore in Nenmara.
Meanwhile, rumours had it that Kollam-based Vishal, who had also bought a ticket of the same first prize winning series from Thrissur, might be the "unlucky jackpot winner" as he had lost his lottery, which was believed to have been burned while cleaning the trash at his house.
The results of Thiruvonam Bumper were declared at 3:30pm on September 23 at Sree Chithra Home Auditorium in Thiruvananthapuram. It is the most important lottery sold by the Kerala State Lottery Department for awarding a huge prize amount compared to other lotteries. While eight second prize winners get Rs 50 lakh each, 16 others get Rs 10 lakh each. Each ticket costs Rs 200 and out of 72 lakh tickets printed, a record number of 69,79,589 lotteries were sold this year.
Credit: Manorama News