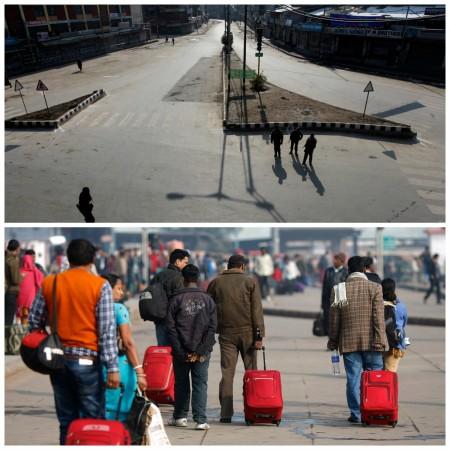 Kerala 'Celebrates' its own festival 'Hartal' again.
Just 25 days after the state-wide hartal in Kerala on 14 March, 2015, various organisations in farm, fishing and transport sectors have called for a dawn-to-dusk hartal in the state on Wednesday, 8 April.
Happy Hartal: Kerala 'Celebrates' its Own Festival on Social Media [REACTIONS]
Following this, Twitterati, who flooded the micro-blogging site on Tuesday morning with the hashtag #മലയാളീസ് ('Malayalis'), has now begun expressing its irritation on the frequent hartal by trending #സെനോറ്റുഹർത്താൽ ('Say no to Hartal').
Meanwhile, many groups in different parts of Kerala have also taken an initiative to help people stranded at railway stations and bus stands by helping them reach their destination.
Check out the photos below:
#സെനോറ്റുഹർത്താൽ Team Chengannur helping the people on Harthal day! @saynotoharthal #SayNoToHarthal pic.twitter.com/6Z06AjLtAN

— Jikku Varghese (@Jikkuvarghese) April 8, 2015
Common man's frustration is the key reason behind #സെനോറ്റുഹർത്താൽ trending all over India. @dhanyarajendran pic.twitter.com/1v1i8WyKBN — Jikku Varghese (@Jikkuvarghese) April 8, 2015
#സെനോറ്റുഹർത്താൽ volunteers in action! pic.twitter.com/hZCrbnBam0

— Jikku Varghese (@Jikkuvarghese) April 8, 2015
Jishnu Raghavan
Please say no to Harthal . Please use social media to strongly put forward your opinion. I'm sure these political parties will get the message that this cannot continue anymore..
Thank god I'm stuck in a hospital today. What about the many others who want to get to hospitals today. I have asked for help to my MP Dr Shashi Tharoor through Twitter. Hope something changes. We don't want Harthal .we are all suffering and loosing crores. Who pays for this and what about the torture normal people have to go through because of this. This is undoubtedly the biggest organised human rights violation.
Check out other Twitter reactions below:
Roji M John
All parties should think of new means of democratic protest that won't affect d normal lives of common man. #SayNoToHartal #സെനോറ്റുഹർത്താൽ
Anjali Lukose
#സെനോറ്റുഹർത്താൽ- Oh, hell ya! A hartaal on Twitter against stupid hartaals in #Kerala.
Rashid Yusuf
This hashtag needs to be trending all over the country. Harthals are bottleneck to the public life. #SayNoToHartal #സെനോറ്റുഹർത്താൽ
Philip John
Great initiative by the concerned youths of Kerala !! #സെനോറ്റുഹർത്താൽ
Adheena Vincent
Harthal:a holiday given for no reason to set things straight!oh and it comes with violence and disturbance! #സെനോറ്റുഹർത്താൽ
Vivek
Calling a hartal to set right a grievance is such a stale idea.Hartals never solved the problems they have called for. #സെനോറ്റുഹർത്താൽ
While the rest of the country is busy as usual in business Kerala marks another needless 'off ' again #SayNotoHartal #സെനോറ്റുഹർത്താൽ
Abraham TJ
Don't say #സെനോറ്റുഹർത്താൽ many may stop breathing in Kerala if you say #SayNoToHarthal their lives depend on making others lives miserable!
Pinky Baby
ഓരോ ഹർത്താലിനും ചിന്തിക്കേണ്ടത്‌ കഴിഞ്ഞ ഹർത്താൽ കൊണ്ട്‌ എന്ത്‌ നേടി എന്നാവണം #സെനോറ്റുഹർത്താൽ