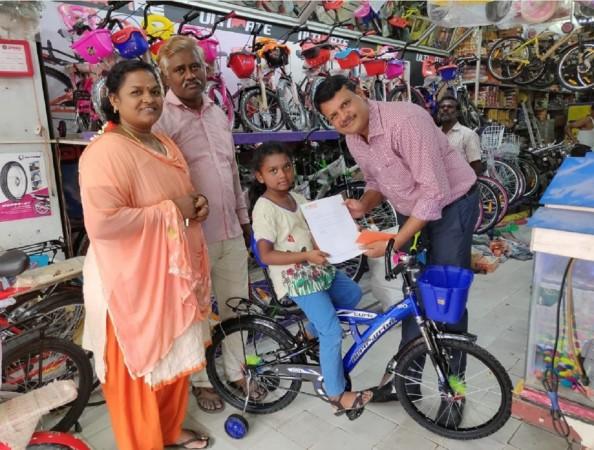 As Kerala continues to deal with its worst ever calamity, thousands of Indians are offering their help to the flood-hit state. Little Anupama from Tamil Nadu's Viluppuram is one of them. The young girl's gesture for Kerala flood relief operations is winning hearts on the Internet.
Anupriya had saved Rs 9,000 to buy a bicycle but she decided to donate the money to Kerala flood relief. She had been saving this amount for four years in her piggy bank but did not give a second thought before her generous act.
A Twitter user Ethirajan Srinivasan shared the tale of her generosity after which her efforts were widely appreciated. "Kid, Anupriya from Vizhuppuram, TN, donates Rs. 9,000, her 4 years Piggy Bank savings, that she saved to buy a bicycle, towards #KeralaFloodRelief," read the tweet.
Among those impressed by the kid's gesture were the makers of Hero Cycles, who then tracked Anupriya and decided to gift her a brand new cycle. The cycle manufacturing company even offered to give her a sum of Rs 9,000 which was donated by her to the flood relief fund but the kid's father refused to accept the money.
Chairman and Managing Director of Hero MotoCorp, Pankaj Munjal, also took to Twitter to appreciate Anupriya's sweet gesture. "Thanks to you dear Anupriya and pleasure to talk to your mom. I had read every act of kindness has a ripple effect. Through you I experienced, "Some act of kindness may bring an avalanche". You are truly blessed and keep up this character of strength that you carry," he tweeted.