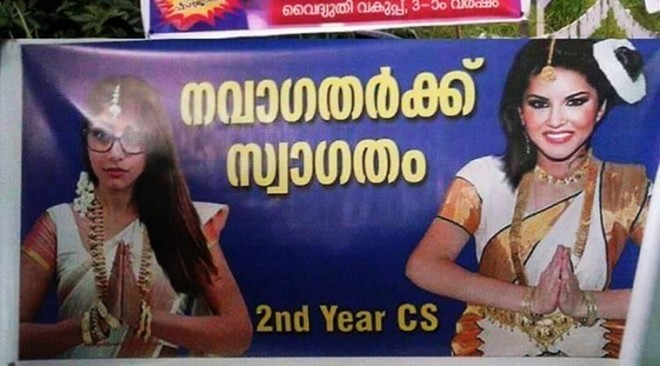 A college in Kerala is hitting headlines after studnets from it welcomed freshers with a banner that features porn stars Sunny Leone and Mia Khalifa prominently on them. A second poster welcoming the first-year students to the college features Johnny Sins, a male porn star, who has reportedly been roped in to make a porn film in space.
The banners, outside Sree Narayana Polytechnic College in the suburban town of Kottayam in the Kollam district of Kerala, have apparently been put up by second and third-year students of the college to welcome newcomers at the beginning of the new academic year.
However, neither banner features any nudity of any sort. Leone and Khalifa are portrayed wearing traditional Malayali attire — thanks to a clearly nifty bit of image manipulation — while Sins is clad in a blue T-shirt. Both banners seem like a prank on the part of the senior students who have put them up.
The banner featuring porn star-turned-Bollywood actor Sunny Leone, whose real name is Karenjit Kaur Vohra, and Mia Khalifa, who is also a social media personality who says she has left the adult entertainment industry, has been put up by the second-year students from the computer science stream of the college.
On the other hand, the banner featuring Johnny Sins — who it was announced would star with Eva Lovia in the first porn film shot in space — has been put up by third-year electronics students, and features a famous quote by thespian actor NN Pillai from his 1991 film "Godfather." The dialogue from the film, which was remade in Hindi by Priyadarshan as "Hungama," roughly translates to: "Come in, children."
After the image of the banners first surfaced on Facebook, it received several hilarious replies, with multiple references to "Brazzers University," Brazzers being one of the best-known producers of adult films in the world. Interestingly, there is indeed a real-life Brazzers University, but it is located in Stockholm, Sweden, and is unrelatedto the Canada-based adult-entertainment film company.
It is not yet clear if the banners were put up with the college's approval. Take a look at the two banners here: