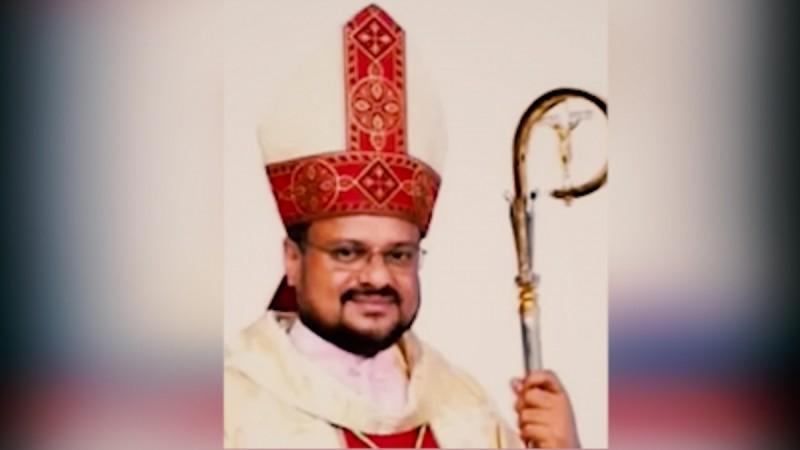 The Kerala nun who accused Jalandhar catholic bishop Franco Mulakkal has revealed harrowing details of the serial sexual assault she suffered. In a 7-page letter written to the Pope's ambassador in India, the nun has said the bishop raped her, harassed her at her work place and tried to implicate her and family members in false cases.
The nun's letter to Apostolic Nuncio of India, Giambattista Diquattro, shows the bishop as a serial sexual predator. Apart from her, other nuns in the Missionary of Jesus (MJ) congregation were also the victims of Franco's sexual assaults, she says.
"Bishop Franco had always an eagle's eye on few other MJ sisters as well. Whichever sister Bishop Franco felt attraction to, he tried to put them in his trap by force or taking advantage of their weaknesses," she wrote.
Meanwhile in Kochi, a clutch of nuns have been staging a rare public protest demanding the arrest of Bishop Franco, who continues to evade arrest despite damning evidence against him.
The bishop has denied charges and the church insists that the nun launched the charges against the bishop after he reprimanded her over her own immoral affairs.
"I write this letter as a victim of sexual abuse who is seeking justice," the nun says in the letter. But it's puzzling why the Kerala police is unable to follow the natural course of justice in this case.
Is this case turning out as a travesty of natural justice and a pointer to the real plight of women in the country? There are powerful people who protect the aggressor but there aren't any strong-enough state mechanism to protect the rights of the woman.
A woman has gone on record that someone has raped her, threatened her, harassed her at her work place and tried to implicate her and family members in false cases. These charges call for immediate arrest of the offender. But curiously this doesn't happen. The whole world conspires to protect the powerful rapist, as if it were.
It's baffling why the Kerala police hasn't been able to arrest the bishop. The investigation team had questioned Mulakkal in Jalandhar last month. Initial reports suggested that there was strong evidence against him and that there were discrepancies in his statement. It looked like the arrest was inevitable.
What's stopping Kerala Chief Minister Pinarayi Vijayan, who handles the home portfolio, from ordering the arrest of bishop Mulakkal in the face of incontrovertible evidence? Of course, Kerala has a powerful Catholic community and it represents a highly useful vote bank. Those who pay lip service to women's safety must now choose between vote bank and justice for women.
Otherwise, the state would end up making a cruel joke out of the legal provisions enshrined to safeguard the rights of women. Beyond that, this also sends out a whole gamut of wrong notions -- that organised religions can protect rapists, that the church is above the law in this secular country, that rights violations within a religious community are not a state matter but an internal affair, that the powerful people can rape anyone and get away with it.
The other day, powerful Kerala MLA PC George branded the rape victim as a woman of loose morals, highlighting the fact that she claimed the bishop raped her 13 times. This is a familiar line upheld by the supporters of Franco Mulakkal -- that sex was consensual.
But they forget that a woman has accused him of rape and serial sexual harassment. What does the law of the land say in such a matter? Who decides that a certain religious leader is above that law? And what about the complaints of sexual harassment lodged by other nuns against the bishop?
How far will the church protect the tainted bishop? Charges arising from sexual abuse are not a new malady afflicting the Roman Catholic church. From the US to Australia, scores of priests have been accused of abuse of children and popes and cardinals have publicly apologized over the church's horrible lapses in dealing with sexual assault complaints.
If the church is not open to introspection, and if it stubbornly chooses to offer rock-solid support to a tainted leader, that's quite unfortunate. Even if the Kerala church sticks to the argument that sex was consensual, has it taken any action on moral grounds? How can somebody remain a bishop after being in the centre of serial profanities?
The nun gives another example of how the bishop played his cards like a scheming sexual predator and snared his victims.
"In this matter I can place a simple example of April 2017. One of our young sisters who had a close contact with Bishop Franco was caught by the authority with specific proofs for a serious error in the place where this sister was rendering her service. Then Bishop Franco asked our superiors to send her to another state where we have more than 3 communities, to a place where only junior sisters were there. Then in the same week itself, Bishop Franco made a special visit to this community and stayed there overnight. At night till 12 pm, this sister was alone in his room for 'spiritual direction'," says the letter.