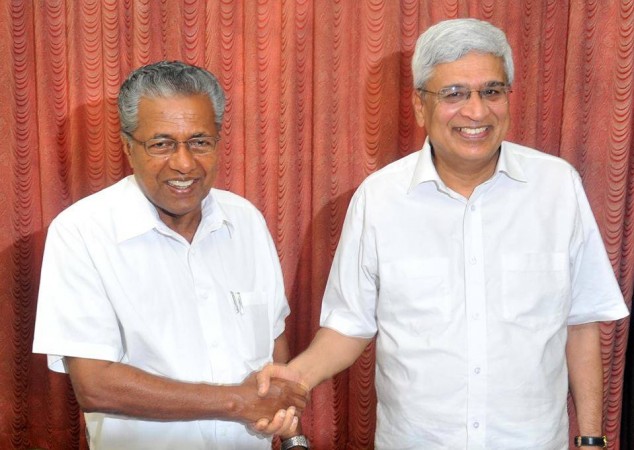 After sweeping majority of seats in the 140-member Assembly in Kerala, the Left Democratic Front (LDF) is set to come back to power in the South Indian state after five years. CPM Polit Bureau member Pinarayi Vijayan will be sworn in as chief minister, along with other cabinet ministers, on Wednesday, May 25.
The senior LDF leader is also expected to handle the home affairs as well as the vigilance department of the state. The cabinet is expected to have eight first-timers and three former ministers. Thomas Issac will be the finance minister of the state and G Sudhakaran will head the Department of Public Works. The other probable council of ministers include C Raveendranath (education), KK Shailaja (health), EP Jayarajan (industries), Kadakampally Surendran (electricity), TP Ramakrishnan (labour, excise), J Mercykuttyamma (fisheries, ports), KT Jaleel (tourism), AC Moideen (co-operation) and AK Balan (welfare of scheduled tribes).
MM Mani, the former district secretary of CPI(M) in Idukki, will be chief whip of the party in the state and S Sharma will be the parliamentary party secretary. Reports also suggest P Sreeramakrishnan will be the speaker. The final list of ministers was expected to be out on Monday evening after the state committee meeting of the LDF.
With the results of the elections out on Thursday, May 19, Kerala witnessed a massive LDF wave with the alliance winning 91 seats in the 140-member assembly. The United Democratic Front (UDF) bagged 48 seats, and the Bharatiya Janatha Party (BJP) made its debut in the state with senior BJP leader O Rajagopal winning from the Nemom constituency in Thiruvanathapuram by 8,671 votes.
| | |
| --- | --- |
| Leader | Portfolio |
| Pinarayi Vijayan | Chief Minister, Home Affairs and Vigilance |
| Dr. Thomas Issac | Finance |
| G Sudhakaran | Public Works |
| C Raveendranath | Education |
| KK Shailaja | Health |
| EP Jayarajan | Industries |
| Kadakampally Surendran | Electricity |
| TP Ramakrishnan | Labour, Excise |
| J Mercykuttyamma | Fisheries, Ports |
| KT Jaleel | Tourism |
| AC Moideen | Co-operation |
| AK Balan | Welfare of Scheduled Tribes |
| MM Mani | Chief Whip |
| S Sharma | Parliamentary Party Secretary |
| P Sreeramakrishnan | Speaker |