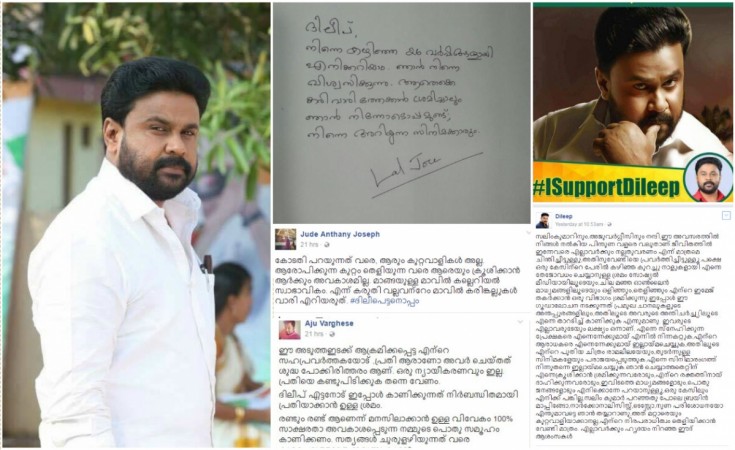 On February 18, a popular South Indian actress was abducted and allegedly molested by Pulsar Suni and gang in a moving car while she was on her way to Kochi from Thrissur. She filed a complaint at the Nedumbassery police station, and on February 23 when the prime accused came to surrender at the Additional Chief Judicial Magistrate court in Ernakulam, Kerala police arrested him as Magistrate was not in his chamber.
Also read: Actress reacts for the first time; warns legal action against those levelling baseless allegations
Latest developments in the case
Over four months after the attack, a letter-- said to be written by Pulsar Suni to Dileep seeking financial support-- had surfaced online. The letter, with the seal of Office of the Superintendent District Jail, Ernakulam, was leaked by regional news channels. However, the authenticity of the letter has not been confirmed yet. The letter is said to be fabricated to defame Dileep.
Dileep's involvement?
Ever since the actress' abduction, Dileep's name has been linked to the incident. The actor later lashed out at the media for spreading rumours about him. Now, Dileep is targeted again after the letter was leaked.
Also read: Inside job revealed in incident where South Indian star was waylaid on Kerala highway
Celebs support Dileep
Mollywood actors and directors have extended support to Dileep with the hashtag #ISupportDileep.
Actor Aju Varghese posted on his Facebook page: "I still wonder how can these criminals be so stupid to bring Dileep ettans name to this case. Injustice at its heights !!! The justice should prevail but not risking the image of an innocent human [sic]."
In yet another Facebook post, Aju said there seems to be a deliberate attempt to frame Dileep. However, the young actor drew flak for taking the actress' name on his post. He later apologised for the mistake.
On Sunday, actor Salim Kumar's Facebook post supporting Dileep became the talk of the town. In his post, the actor said he would bring Dileep and Nadirshah for polygraph test, if required, to prove their innocence. He also said to get Suni and the actress to undergo lie detection test.
However, Salim later apologised for suggesting lie detection test for the actress.
Celebrities, including Lal Jose, Nadhirshah, Bineesh Bastin, Jude Anthony Joseph, and many others have also supported Dileep. Meanwhile, Ramaleela's director Arun Gopy and producer Tomichan Mulakupaadam claimed the timing of the latest controversy-- just ahead of the movie's release- is suspect.
Finally, Dileep reacts
"Thanks Salim Kumar and Aju Varghese for your support during this hour of need. Though I have only wished good for others, for the past few months, I have been targeted by social media users and yellow journalists. Many are trying to defame me during prime time talk shows. They have only one intention - to destroy me and my movies. I just have one thing to say. I am not a part of any cases. As Salim Kumar suggested, I am ready to undergo brain mapping or narco analysis or polygraph, not to frame anyone, but to prove my innocence [translated from Malayalam]," Dileep posted on his social media page on Monday, June 26.
During a telephonic interview with a Malayalam news channel, the Ramaleela actor also added that he will fight all ways possible to prove he is not part of the case, at least for his daughter.