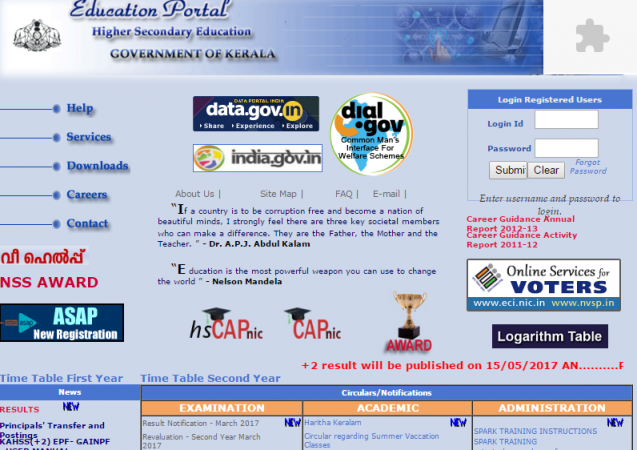 The results of the Plus Two (Class 12) higher secondary examinations (HSE) were announced by Kerala Directorate of Higher Secondary Education (DSHE) at 2 pm on Monday, May 15, on the official website of the board.
Check Kerala DHSE results
More than 4 lakh candidates had appeared for the board exams held from March 8 to March 28, 2017. The pass percentage stands at 83.37 as opposed to 80.94% the previous year. Out of 3,66,139 students, 3,05,262 have become eligible for higher studies. 11,829 (8,604 girls and 3,225 boys) candidates scored A+ for all subjects.
Kannur district has recorded the highest pass percentage at 87.22, while Pathanamthitta fared low at 77.65%.
How to apply for SAY, improvement, revaluation?
Students can apply for SAY examination for all failed theory papers before May 22 at the respective examination centres. The notification for the exam will be issued on May 15. Students have to score D+ or more for all subjects to appear for improvement, and that too for a single subject. Old syllabus candidates who have scroed D or less for more than one subject cannot apply for SAY examination.
Application fees: Rs. 150 for a subject
SAY exam dates: June 7 to June 13
Time: 9.30 am and 2 pm

Application fees for improvement exam: Rs. 500 for a subject + Rs. 40 for certificate
Students, who couldn't attend practical exams can appear for the same on May 30, 31 at selected centres.
Time Table for SAY exam

7 June

9.30 am: Physics, Geography, Accountancy, Philosophy, Music, Anthrapology and Journalism
2 pm: Geology, Social work

8 June

9.30 am: Chemistry. Political science, Sankrit
2 pm: Economics, English literature

9 June

9.30 am: Mathematics, Part III languages, Computer application, Psycology, Sankrit
2 pm: Gandhian studies, Statistics

12 June

9.30 am: Part I - English
2 pm: Part II - Second languages, Computer information technology

13 June

9.30 am: Biology, Sociology, Computer Science
2 pm: Home science, History, Business Studies, Islamic histiry and culture, Electronics, EST, Communicative English
REVALUATION
Students can also apply for revaluation, except for Physics, Chemistry and Mathematics. Students can apply for the answer sheets of the above subjects at their respective exam centres. The application forms must be submitted before May 25.
Application fees for revaluation: Rs. 500
Fees for getting answer sheets: Rs. 300
Last day of application: May 25
-