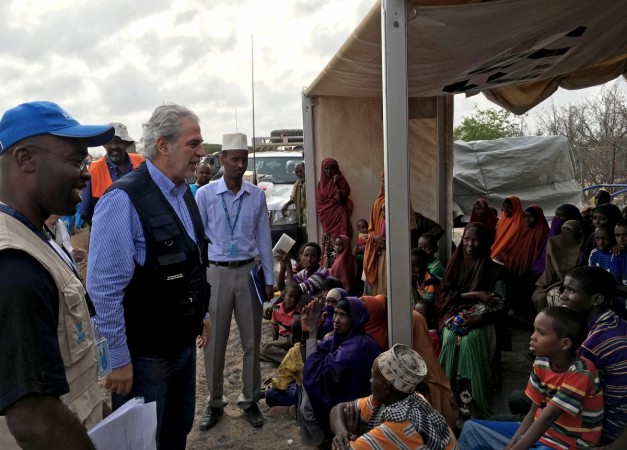 Two refugee camps housing over 600,000 people in Kenya will be disbanded, the African nation's government said on Friday. The government cited "heavy economic, security and environmental burden" as the reason for closing down the camps, one of which is among the largest in the world.
Dr. Eng Karanja Kibicho, the principal secretary of Kenyan Interior Ministry, in a statement released on Friday, said the government was closing down Dadaab and Kakuma camps in the country, which had been operational for almost 25 years. While it acknowledged various reasons, like war, insecurity, famine and drought, that propel refugees to leave home, the government also said it will no longer be able to house the refugees, most of whom come from war-torn and conflict-ridden nations like Somalia and South Sudan.
"The government of the Republic of Kenya, having taken into consideration its national security interests, has decided that hosting of refugees has to come to an end," the statement said.
The government said that despite a tripartite agreement signed by Kenya, Somalia and the United Nations Human Rights Commission about repatriating Somalian refugees and "eventual closure" of the camps, the repatriation has been slow, forcing them to take this action.
The threat of al Shabaab, an ISIS-linked terror group operating in Somalia, and other terror groups to Kenya's security, the government said, was also a reason behind the action.
The government also acknowledged that the closures will have an adverse effect on the lives of the refugees. However, it has put the onus on the international community. The government has disbanded the Department of Refugee Affairs, and urged the international community to help Kenya minimise the pain and suffering of the refugees.
The action has received outrage and condemnation from various human rights organisations, some of whom besieged the Kenyan government to not close the camps.
Doctors without Borders, in a statement, said, "the closure would risk some 330,000 Somali lives and have extreme humanitarian consequences."
"Kenya should not turn its back on people needing protection and on fundamental principles that it has pledged to respect," Bill Frelick, refugee rights programme director at Human Rights Watch, said in a statement.
Muthoni Wanyeki, Amnesty International's Regional Director for East Africa, the Horn and the Great Lakes, said in a statement, "This reckless decision by the Kenyan government is an abdication of its duty to protect the vulnerable and will put thousands of lives at risk."