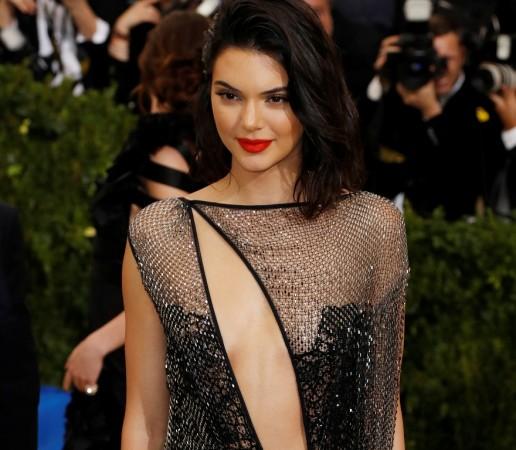 Kendall Jenner gave her fans an eyeful as the supermodel flashed her assets for La Perla's latest colourful Pre-Fall 2017 Campaign. Directed by La Perla Creative Director Julia Haart, the campaign was inspired by the art of Georgia O'Keeffe and Peter Max.
Also read: Kendall Jenner: I don't get to be hot very often
The elder sister of Kylie Jenner looked gorgeous in a lacy bra and panty showcasing her slender physique.
According to E! News, La Perla described Kendall's elegant beauty in their press release. They also mentioned that Kendall has been cast as a Dorothy-esque character stepping into the colourful Land of Oz.
"Jenner [Kendall] exudes the certainty and self-assurance of a true heroine—owning her world through confidence and empowered femininity."
"The explosive visual message is intended to shock and transport the viewer to a world of fantasy, color, and art."
Photographed by Mert & Marcus, the colourful background of the ad campaign features a kaleidoscopic world of giant begonias, huge hibiscus, and reimagined tulips in the psychedelic shoot.
In a photo, the KUTWK star showed off her lanky legs and phenomenal figure in a La Perla's triangle shaped sheer bra and shorts. The 21-year-old also sported La Perla's sexy slip dress, which has a built-in padded bra and sculpted bodice sewn from stretch silk with Leavers lace detail.
The reality star kept her hair sleek straight. The glam queen was also seen donning a purple printed super sexy floral number that works the underwear as outerwear trend.
La Perla's Julia Haart previously told E! News that for a woman beauty defies when she feels comfortable in her own skin. "Clothing should not restrict you. It should empower you," the creative director told E! News. "Honestly, the idea is that I want women to be feminine feminist.
You don't have to be masculine to be a feminist. Think Naomi [Campbell], who is such a powerful woman, to Kendall, who is beautiful, easy-going. That's effortless. I was telling the women backstage to own it. Own it! You don't need to be serious."