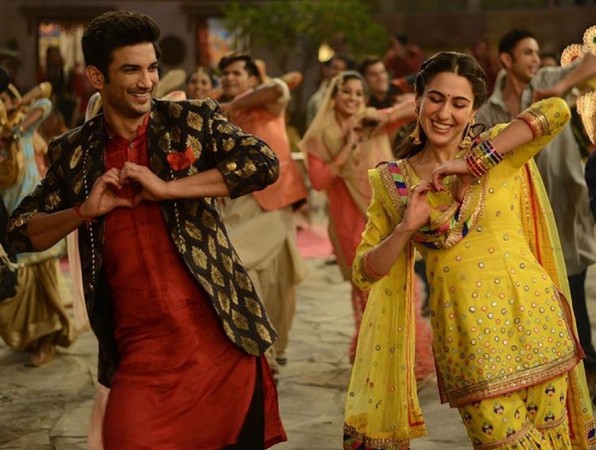 Director Abhishek Kapoor's Kedarnath starring Sara Ali Khan and Sushant Singh Rajput has been released in the Gulf region and critics have given mixed reviews for the film.
Celebrities and a few film critics also got a chance to see the film a day prior to its release and they have been showering their praise on lead actors, director and the storyline.
Some critics have pointed flaws in Kedarnath's narration, screenplay and visual effects which turned them down. However, they were amazed with the natural performaces that were put on screen by Sara and Sushant with the portrayals of their characters.
But some didn't really connect with the storyline and found the chemistry between Sara and Sushant quite boring.
Sara Ali Khan's debut film Kedarnath is one of the most awaited films of the year. The love story tracing the pure and innocence of the brewing romance between Mukku and Mansoor played by Sara and Sushant respectively.
Kedarnath is shot in the real locations of the Uttarakhand. The makers offer a virtual tour of the holy place as they shot the film so close to reality in the temple.
Talking about the shoot of the film, Director Abhishek Kapoor revealed, "It took a lot of research to recreate the floods in Kedarnath. We did a lot of prep on how to build the sets. We created a balance of computer graphics, live action, and visual effects to give the audience an immersive feeling. Whenever I have made films, the intention has always been to leave the audience with a dramatic high. With Kedarnath, I want people to get moved by the love story while experiencing the yatra."
Producer Ronnie Screwvala also shared his thoughts on the unconventional topic of the film saying, "It (the floods) was a natural disaster of massive proportions. All of us get so consumed in life, that we lose perspective about these things. We could learn lessons about conservation of nature from this disaster. We decided to convey this through a love story."
Take a look what audience have to say about Kedarnath movie.
#Kedarnath is Sara's Sawariya.
Very boring and unwatchably bad. The leads share a poor chemistry.

Sara can act though & is definitely gonna have a bright future ahead. It sucks that she is starting her career with Kedarnath & Simmba pic.twitter.com/9A5p1BGVZR

— Od (@odshek) December 6, 2018
#Kedarnath is a spectacular tragedy. The visuals are stunning. And the climax is bone-chilling. @itsSSR is such a good actor. He is endearing and holds the movie well. #SaraAliKhan is a star. Period. She is a natural and makes a confident debut. — Gaurang Chauhan (@GaurangChauhan) December 6, 2018
#Kedarnath A must mast pilgrimage every cinegoer should go to! With oodles of acting in her genes, #SaraAliKhan is a scene stealer and superlatively impressive. @itsSSR gives yet another reason as to why he is one of #GenNext #superstars in #Bwood@RSVPMovies @RonnieScrewvala

— SATISH KUMAR (@satishcheerful) December 6, 2018
#KedarnathReview Emotion less love story, script not proper for entertainment, only ending good, #SaraAliKhan looking beautiful, long stay, #SushantSinghRajput Average, no improvement, Cinematography excellent My Rating: 1.5 Predict Verdict: Below Average to Flop#Kedarnath pic.twitter.com/mPL7N1CtWj — Movie Lover : (@Movie_DilSe) December 6, 2018
#Kedarnath falls short to evoke right emotions while trying to put character and drama over spectacle. However, both @itsSSR & #SaraAliKhan are wonderful. Film's true strength lies in the combined appeal and compelling performances of the two. #KedarnathReview
Verdict: Average pic.twitter.com/kgdXIHvCbr

— Mayur Sanap (@mayursanap709) December 6, 2018
I watched #Kedarnath with eyes wide open and jaw dropped, trying to recall when was the last time I saw THIS confident a debut by an actress. #SaraAliKhan is an incredible performer. The one truly made of star stuff. — Justin Rao (@JustinJRao) December 6, 2018
#Kedarnath is a beautiful, beautiful love story which leaves you in awe and a lot of tears and love. Kudos to @Abhishekapoor for mounting the film on th biggest canvas and yet rooting it where it matters: the heart.

— Justin Rao (@JustinJRao) December 6, 2018
#Kedarnath #moviereview #SushantSinghRajput & #SaraAliKhan starrer this week's flick provides eye pleasing shots of UK, but it could've done better. Acting was good, i wish screenplay would've matched the level of expectations. Kudos to #SaraAliKhan — The Speaking Journal (@JournalSpeaking) December 6, 2018