Bollywood star Amitabh Bachchan is back on the small screen with the most popular television show Kaun Banega Crorepati season 6.
The entries are being invited and registration lines for both phone and messages have already opened from May 28. It will remain open till 20:59:59 hours on June 7.
Below is the schedule of on-air registration questions: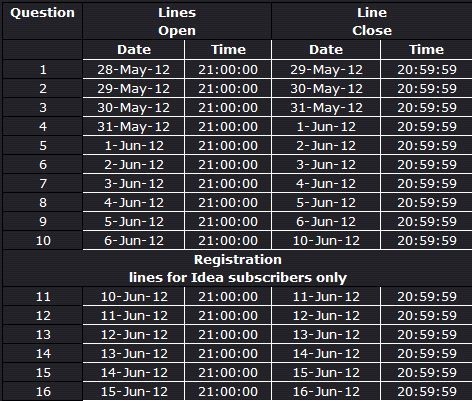 You can register yourself by answering the question through SMS or call on the IVR number. Here are the details of the SMS numbers and phone numbers:

The registration through SMS needs to be in the following format, otherwise it won't be considered as valid entry:
"KBC (space) Answer option (A/B/C/D) (space) Age in completed years (space) gender"
The June 2 registration question for KBC 6:
Which of these is a make of trucks of Czech origin used by the Indian Army?
A. Mercedes-Benz
B. Tatra
C. Sikorsky
D. MIG
Entries received by 20:59:59 hours on June 2, will only be considered as valid entries.
To check the procedure of call and SMS click here
The promos featuring host Amitabh Bachchan are already being aired and will be there till the first week of June, after which the final contestants will be selected.
Meanwhile Sony TV hasn't finalized a date to start airing the show. Last year when KBC season 5 ended, Amitabh said that the new season would return in August 2012.
KBC 6 is expected to have at least 40 to 50 episodes and plan is being worked on to make sure that the other daily soaps timing is not affected by this show, Hindustan Times reported quoting a source within Sony.