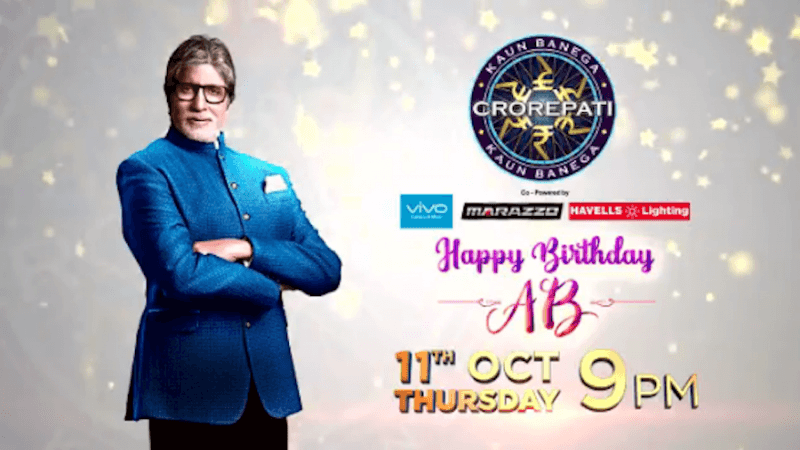 Bollywood megastar Amitabh Bachchan was born on October 11, 1942, and turns 76 this year. Big B, as he is known fondly in the film industry, is currently hosting quiz show Kaun Banega Crorepati 10 (aka KBC 10) on Sony Entertainment Television. The show will have an Amitabh Bachchan birthday special at 9 pm IST on October 11.
A contestant on KBC 10 has already handed over a present to Amitabh Bachchan ahead of his birthday, and the superstar's fans and fan clubs all over are gearing up to celebrate his special day. The actor will undoubtedly receive gifts and good wishes from all over the world.
But there is something very special gifted by the KBC 10 team to Amitabh Bachchan that made him shed a tear. As a surprise to Amitabh Bachchan on his birthday, the KBC 10 team and Sony Entertainment Television paid a tribute to Sr Bachchan's parents Harivansh Rai Bachchan and Teji Bachchan.
Live on the show, Teji Bachchan's voice singing a melodious song was played, taking Amitabh Bachchan by surprise. Overwhelmed with this gesture, Amitabh Bachchan is seen in tears, happy tears, as he reveals, "Maine kabhi suna nahin tha maa ko gaate hue iss tarah (I had never heard Mother sing like that)."
Sony shared the video on Twitter (inadvertently tagging the incorrect Twitter handle of Mr Bachchan). Take a look at the video!
Amitabh Bachchan was born to renowned poet Harivansh Rai Bachchan and Teji Bachchan. While his father hailed from Allahabad, his mother was a Sikh from the Lyallpur, Punjab, in British India, which is now in Pakistan.
Harivansh Rai Srivastava Bachchan was an English professor and a Hindi poet and had worked with the External Affairs Ministry. He had also worked at the All India Radio (AIR) and was a PhD holder from Cambridge. He had married Teji Bachchan after his first wife Shyama Bachchan died of tuberculosis.
Teji Bachchan was a lady who took the lead. She was best known to be close to Prime Minister Indira Gandhi. She was a teacher, theatre personality and social activist, having also been appointed as one of the directors of the Film Finance Corporation of India.
It is but natural that Amitabh Bachchan got emotional thinking of his late parents on his birthday. We wish him a very happy birthday and a long life!